The Ojai Music Festival audience members and donors are highly educated, affluent and influential. An effective way to reach this desirable group is through advertising in the Festival's program book or participating in our corporate partnership program.
The Program Book
The complimentary program book is provided at all concerts where it is read before and after performances, as well at the Festival lectures, and community events. It is kept long after the Festival, serving not only as as a souvenir but a resource due to the in-depth program notes written by noted musicologist Christopher Hailey.
Advertising in the 2017 Program Book
Download Order Form | Download Rates & Specs | Download Audience Facts
Demographics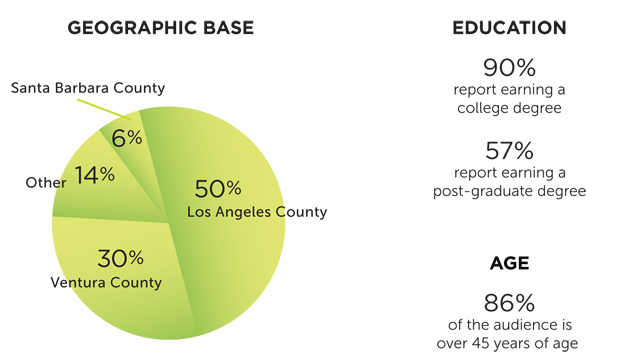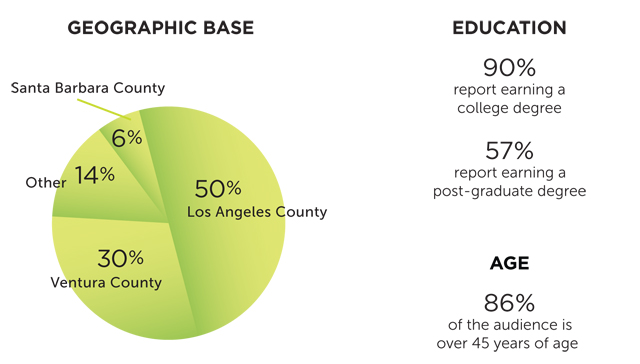 Circulation
Attendance at the Festival is up to 1,400 audience members per concert, in addition to the numerous community members attending free Festival events. Many of our patrons reference their program books multiple times during the four-day Festival. Ojai Music Festival patrons save and share their books for years as treasured mementos. It is also distributed at key Ojai Valley businesses before the Festival.
Snapshot of Festival Patrons

Upwardly mobile consumers with important purchasing power
Wealthy, established professionals
Dual income families of $250,000 and above
Visits Ojai during the year outside of the Festival weekend
Travel more than three times a year
Highly-educated executives and professionals
Deadlines and Submission of Artwork
Space deadline: April 5, 2017 (50% deposit due as space reservation)
Artwork due April 20, 2017.
Further Inquiries:
Contact Laura Rearwinward, Ad Sales
laura.ojaifestival@gmail.com | 805 479 5400