The Ojai Music Festival is a unique opportunity for musical exploration. Audiences convene each year to experience world's leading composers and performers, spanning many different traditions, approaches, and systems of music.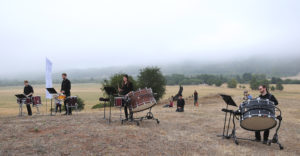 In our commitment to musical innovation and creativity, we want to make the Festival as accessible as possible to students. The main barriers to entry are cost, distance, and uncertainty about the music. This page exists to provide information and resources to students with these concerns in mind. For additional questions, please call Kevin Sloan at 805 646 2053 or email boxoffice@ojaifestival.org.
Student Discounts
Students and educators with valid ID's receive 30% discounts to the Ojai Music Festival. To receive a student discount code, Email a photo of your student ID to boxoffice@ojaifestival.org
Click here to download the 2017 student series order form.
Click here to download the 2017 single ticket order form.
Volunteer
As a volunteer, you receive complimentary tickets, merchandise, and the opportunity to play a crucial role in the Festival. To volunteer for the 71st Festival, June 8-11, 2017, please complete and return our Volunteer Signup Form. Assignments will be made and you will be notified in mid-May.
If you have questions, or would like more information, please call 805 646 2094 or email volunteer@ojaifestival.org.
Musical Exploration
Special thanks to the Shanbrom Audience Development Fund, which supports the next generation with music opportunities including attending the Ojai Music Festival at a nominal price.