Welcome! If you made it this far you are either a fan of the popular television program MythBusters, curious about new music, interested in life-changing experiences, or all of the above. Rest assured, you have come to the right place. Although we lack the funding for a full-fledged MythBusting operation, we can challenge common Ojai Music Festival myths using verifiable facts.
Myth #1: I am a student, and the Ojai Music Festival is too expensive. Other concerts and music festivals are so much cheaper!
A student or educator can attend all four days of the Ojai Music Festival for $35 dollars – that includes ten concerts from master musicians, composers, and improvisers, pop-up concerts in Libbey Park, and exclusive student events.
Myth Rating: BUSTED
Myth #2: Ojai is in the middle of nowhere.
Ojai has a unique energy – with its pink sunsets, surrounding mountains, and clear night skies – but we do not think it terribly difficult to get to from Los Angeles (90 minutes) or Santa Barbara (45 minutes). These estimates (which we have tested many times) assume you plan your trip in order to avoid rush hour traffic.
Myth Rating: PARTIALLY BUSTED
Myth #3: The music is too weird.
Audiences and artists enter the Festival with a sense of curiosity and adventure – so yes, that can get weird, but not too weird. If you are open-minded, then creative, innovative music will open itself to you. Ojai Talks, our program notes, and information on this website should dispel inaccessibility myths. If you have a heart, a mind, and open ears, this music is for you.
Myth Rating: BUSTED
Myth #4: Lodging is too expensive
This one is true. We are working on ways to cut lodging costs for future Festivals, but we suggest camping or staying in Ventura or Santa Paula.
STUDENTS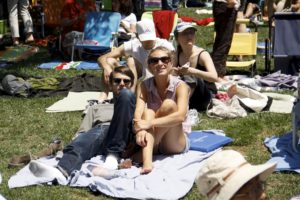 Students and educators with a current student/educator ID are eligible for a 30% discount off of their ticket orders. Please call our box office at 805 646 2053 or email Kevin Sloan for more information.
Click here to download the 2017 student series order form.
Click here to download the 2017 single ticket order form.
Find us on Facebook and Twitter to stay current with the latest news and chances to win free tickets!
GROUPS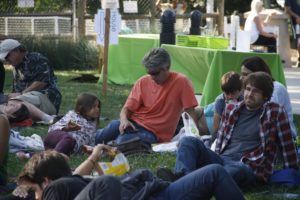 Make the Ojai Music Festival a musical party with friends, family and colleagues! The splendor of the Ojai Valley and a wide variety of outdoor activities will enhance your musical experience. Group discounts start at 15% for groups of 8 or more people. We can also assist you with suggestions on dining, lodging and activities during your time in Ojai.
Please call our box office at 805 646 2053 or email Kevin Sloan for more information.