The Ojai Music Festival is pleased to share that OjaiU, a free three-week online course centered on the 2013 Festival, will be launching Wednesday, May 15. These courses are designed to help audiences "listen smarter" and enable them to gain deeper insight into music. Far from being simply "program notes," OjaiU is built around the ideas that animate the thinking behind a Festival like Ojai, featuring observations by performers, critics and experts.
Watch a video preview of OjaiU below and sign up for classes here >>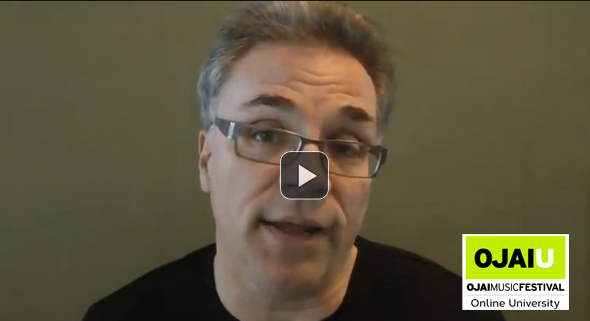 The OjaiU courses are led by Douglas McLennan, editor and founder of ArtsJournal.com and feature guest instructors including Festival Artistic Director Thomas W. Morris and 2013 Music Director Mark Morris. Other instructors are composer John Luther Adams, pianist Jeremy Denk, dean of the Juilliard School Ara Guzelimian, music and dance critic John Rockwell, filmmaker Eva Soltes, and Los Angeles Times classical music critic Mark Swed.
View descriptions of the three OjaiU courses
Ideas and the Power of Music: Great art says something about the culture around it. Just how that happens is easy to see in visual art or theatre or dance. But music is largely an abstract art form. So how does music engage ideas? Does music have important things to say about our contemporary culture?
Music in its Place: Music is an evocative art. A few bars can set you in the Old West, a busy city or a faraway country. Music can also express identity. But how? Certainly by quoting cultural references we all know. But the relationships between composers, their music, and the places they want to evoke can be much more complicated. The music of composers such as John Cage, Lou Harrison, Charles Ives and John Luther Adams not only works to evoke place and identity, but also to interact and adapt to the places, context and circumstances in which the music is being performed and heard.
Dance and Music, a Love Story (It's a little more complicated than that): For many, it's tough to imagine dance without music; the two are inextricably linked. So does dance come out of music? And if so, is dance a subordinate art? Or is it MORE subtle than that—a collaboration, a partnership or dialogue? We'll explore the relationship.
Classes begin May 15 and take place each Wednesday leading up to the 2013 Ojai Music Festival. OjaiU is free and open to the public.
Visit the OjaiU website >>
Click here to sign up for OjaiU >>