Enter to win prizes from Holiday Marketplace vendors and the grand prize an Ojai Spa Weekend Getaway! Tickets are $20 for 3 and can be ordered online or by calling 805 646 2053.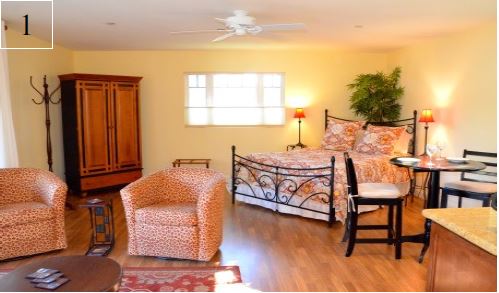 Raffle Grand Prize: 2 Nights in Ojai Downtown Guest Studio & Spa Weekend
Spend two nights in this wonderful downtown guest studio. A large balcony offers wonderful "tree-top views" of the local Ojai mountains.
The famous Ojai downtown shopping arcade is just a few minutes walk.
Also included with this grand prize:
Bottle of Wine and (2) Tastings from Topa Mountain Winery
Lunch at Suzanne's
Coffee at Coffee Roasting Company
Haircut and Blow Dry from Carol Farrar at Contempo Salon
Manicure at GLO by Teresa Farrell
Massage from Day Spa of Ojai
Additional prizes feature items generously donated by Holiday Marketplace vendors. Click here for Raffle booklet >>
Click here to order raffle tickets online or call 805 646 2053 to purchase over the phone. Proceeds benefit the Ojai Music Festival and its BRAVO music education programs in the schools and community.
This raffle is registered with the CA Dept. of Justice under registration RF1651.