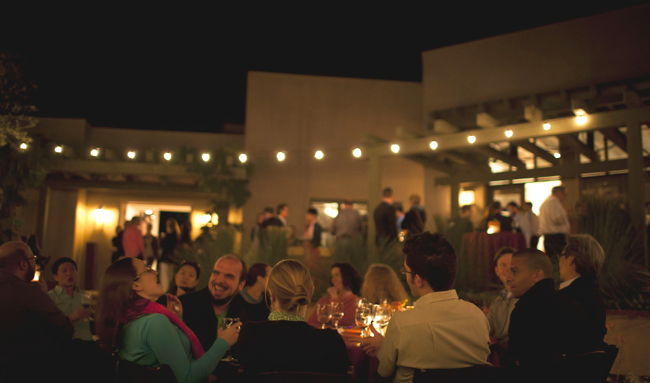 Each summer the Festival turns the conventional into the unexpected. From the premieres, artistic debuts, and exciting co-commissions, to the unusual early mornings and late-night performances, audiences have relished an immersive experience that makes one both think and feel.
The support of our members makes Ojai an inspiring place where artists are encouraged to push their boundaries and reimagine the concert experience, and where audiences have a deep, meaningful impact on the music being performed.
Become a member today and help us to continue presenting the fresh and transformative programming that defines the Ojai experience.
Make a donation and receive special member perks to enhance your Festival experience!
Learn more about our 2015 giving challenge >>
---
Below is a list of the 2015 membership benefits, 2016 benefits will be announced in the fall.

$25: 2015 Festival Preview
Discover the 2015 Festival program as KUSC's Gail Eichenthal interviews Artistic Director Tom Morris in this special podcast.
$100: Sunrise Concerts
"So lovely, poignant….the entire audience seemed to be moved by the experience," 2014 patron on the Sunrise Concerts
The Sunrise Concerts have become one of the most memorable events during the Festival weekend. The Saturday Sunrise will feature members of ICE performing works by Julio Estrada, Pauline Oliveros, and Anna Thorvaldsdottir. Morton Feldman's For Philip Guston will be performed on Sunday, featuring Claire Chase on flute, Sarah Rothenberg, and Steven Schick on percussion. Get ready for this 4 ½ hour extravaganza with a 5am start time! Bring a blanket or pillows, and we'll  provide the coffee!
$250: Day at the Lounge
The Festival Lounge is a favorite place to relax between concerts and during intermissions while enjoying wine, refreshments, and conversation. We invite you to join us on Saturday during the Festival weekend.
$500: First Night Bash
Celebrate the first night of the Festival with artists and friends and enjoy an interactive performance of Lei Liang's, Trans, led by Music Director Steven Schick.
$1,000: Festival Lounge Pass
It's your home away from home during the Festival weekend. Relax and mingle between concerts and during intermission. Complimentary refreshments, wine, and wireless internet are available for patrons.
$2,500: Concert in the Yard
Join us for a private performance of this one-hour percussion extravaganza at the Ojai Arts Center. Percussion ensemble red fish blue fish performs Michael Gordon's spectacular work, Timber.
$5,000: Parking
Have peace of mind with your reserved parking pass at private lots across from the Libbey Bowl.
Make a donation online or call Anna Wagner at 805 646 2094
See other ways to give >>