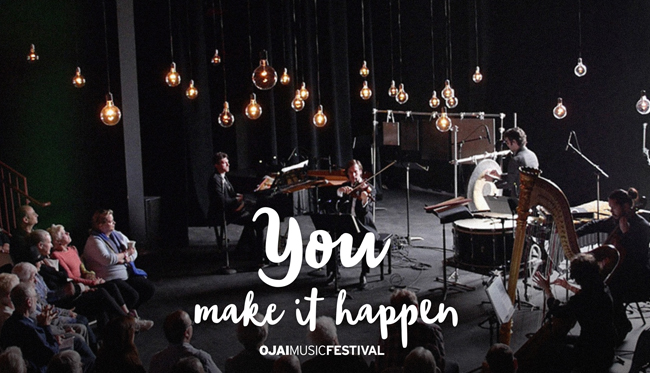 Since its founding in 1947 the Ojai Music Festival has been a place where ideas take root and grow into tangibility. Made possible by dedicated volunteers and generous supporters, the Festival's pioneering spirit lives on 70 years later in the Ojai experience that draws audiences year after year – in the intimacy of the musical performances and the tranquility of the surroundings. In the intrepid audiences and artists who are committed to exploring the new – and to exploring the familiar in new ways. In the conversations and friendships that continue throughout the weekend and across the years…
You make it happen. Our journey has been possible because of committed supporters who believe in the Festival's vision and the artists who carry it out each June.
Join us in celebrating our landmark 70th anniversary with a contribution. Click here to donate online or call Anna Wagner at 805 646 2094 ext. 105.
Every gift is meaningful to the Festival. We truly cannot do it without you!
Make a donation online or call Anna Wagner at 805 646 2094 ext. 105.