Meet the Designers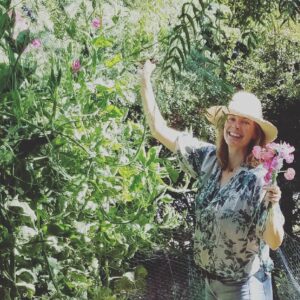 Palomar Farms
Eileen is the dreamer behind this flower adventure. Her love of flowers was established before she learned to walk. Eileen is fascinated with transformation and hails from a long career of transforming old houses into sacred homes. After getting divorced , which catalyzed her own transformation, Eileen was in search of a new life. She bought a fixer upper in Ojai on a magical plot of land, and slowly began to see what wanted to be birthed. She needed a contractor and Ty showed up at her doorstep. Together they worked to transform the house into a cozy nest for the family. In the midst of renovations about 4 of the Heritage Oaks that graced the front yard fell. Without the majestic cathedral of Oaks the house seemed naked and exposed with a now empty plot of sunny land that asked for a new life. This was when the idea of gardens was born. She discovered "Floret Farm's" Cut Flower Garden" book, ordered seeds, corms and bulbs from Floret and learned as she went along that first season of 2018. The fires and mud slides hit that winter and everything was threatened. Miraculously they were spared and the flowers grew! Now three years later Eileen has had more practice and has graduated from Floret's Flower Farming Workshop 2020. Along with her growing passion for all things floral, Eileen also teaches Kundalini Yoga and Facilitates Women's Writing Circles at the farm. These are complimentary tools that she uses to teach about transformation. She is a mother of three now adult children, Sophie 24, Ruby 22 and Henry 18. They help her on the farm in between their own busy lives in pursuit of their dreams. Eileen lives with her partner Ty and his daughter Simone 8, along with her mother Pat 81.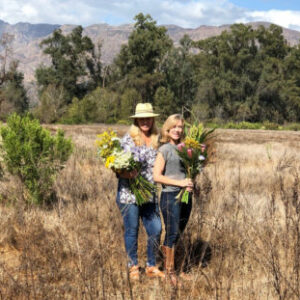 Ojai Blooms
Ojai Blooms is a collaborative effort by me, Jennifer Wing, and my dear friend Adonda McGrath Brennan. It's really a dream come true. We couldn't be more thrilled and excited to introduce you to Ojai Blooms and work together. I have had my nose in a flower since I can remember. I always see the beauty in nature and flowers. I come from a background that encouraged a love of nature and creativity. Both of my parents are artists as well as avid gardeners, my mom a potter and my dad a photographer, teacher and writer. They planted seasonal blooms throughout our garden. I remember picking narcissus, roses and mint and creating arrangements for our table as early as five years old. This passion and creativity for flowers has continued to grow and I love to share it at Ojai Blooms through floral design. I also share it with my husband and two boys. I have taken them to many a garden to "smell the roses." I am looking forward to the evolution and wonders that await us here at Ojai Blooms.
Adonda comes from a legacy of farmers that have been farming on the central coast of California for five generations. She grew up with the value of nurturing living, growing things. The farm has been certified organic for years now. They are passionate about organic food and flowers. Ojai Blooms source our organic seasonal flowers from the farm whenever possible. The flowers are borders for the crops, maximize pollenization, and attract beneficial bugs. Adonda lives in Ojai with her family, dogs, chickens and goats. McGrath Family Farm is still near and dear to her. With her impeccable taste and style she designs amazing arrangements. Her warmth and customer service are truly remarkable. We are both dedicated to helping each individual client's vision come to fruition.
Together, we have years of design experience and are always open to collaborate with our clients. Our goal at Ojai Blooms is to bring the beauty of flowers and giving to you and your loved ones.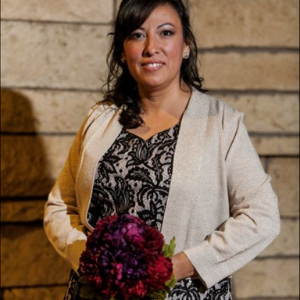 Angela's Flowers
Angela's Flowers has had a long and colorful history. The iconic business was originally started in 1978 by Angela Mc Elroy in Ventura. She later decided to move to beautiful Ojai Valley, where she continued to live until recently. In about 1989, Angela then sold the business to Joanne Moore, who owned it until about 2006, when she decided to sell it to friend Laurie Barnett, who then sold it to Irma Murillo. Irma had begun working for Angela's Flowers when she was just a sophomore at the local high school. It was her first job and she honestly believes it will be her last. She has been with the business for over 20 years, and she loves what she does so much it doesn't seem like work.
Thank you Sponsors
Chief Peak
Anonymous
Carey Appel and Tracy Albert
Kathleen and Jerry Eberhardt
Esther and Tom Wachtell
Topa Topa
Meg Bates and Scott Johnson
Drs. Bruce Brockman and Bridget Tsao
NancyBell Coe and Bill Burke
Michelle Nugent Cowens
Penny Donnelly
Peggy and George Melton
Jill and Bill Shanbrom
Matilija
Anonymous
Olin and Ann Barrett
Carolyn and Jamie Bennett
Renee Castagnola
Ann D. Costigan
Stella Day
Kathleen and James Drummy
Cheree Edwards
Bob Eisler
Ara Guzelimian and Janet Clough
Margo and Allen Haas
Michael and Naomi Inaba
Joan Kemper
Ruth Lasell and Robert Bonewitz
Mary McConnel
Judith Hale Norris
Ron and Linda Phillips
Joyce Avery Robinson
Barbara and Jack Wells
Dick and Gayle Whitaker
Chapparal
Anonymous
Betsy Bachman
Kate and Barney Barnhart
Jeannine and George Cobb
Laurel Crary
Kyle L. Donnelly
Gina Gutierrez and Gary Richardson
Herb Hemming
Barbara and Tony Hirsch
Betty Iwerks
Margie and john Logan
Collette Miller
Claire and David Oxtoby
Barbara and Marty Pops
Sandra and Charles Sledd
Aryna Swope and Phil Caruthers
Martha Spriggs
Jane and Dick Weirick
as of November 1, 2020
Special thanks to: