[ngg_images source="galleries" container_ids="110″ display_type="photocrati-nextgen_basic_thumbnails" override_thumbnail_settings="0″ thumbnail_width="240″ thumbnail_height="160″ thumbnail_crop="1″ images_per_page="20″ number_of_columns="3″ ajax_pagination="1″ show_all_in_lightbox="0″ use_imagebrowser_effect="0″ show_slideshow_link="0″ slideshow_link_text="[Show slideshow]" ngg_triggers_display="never" order_by="sortorder" order_direction="ASC" returns="included" maximum_entity_count="500″]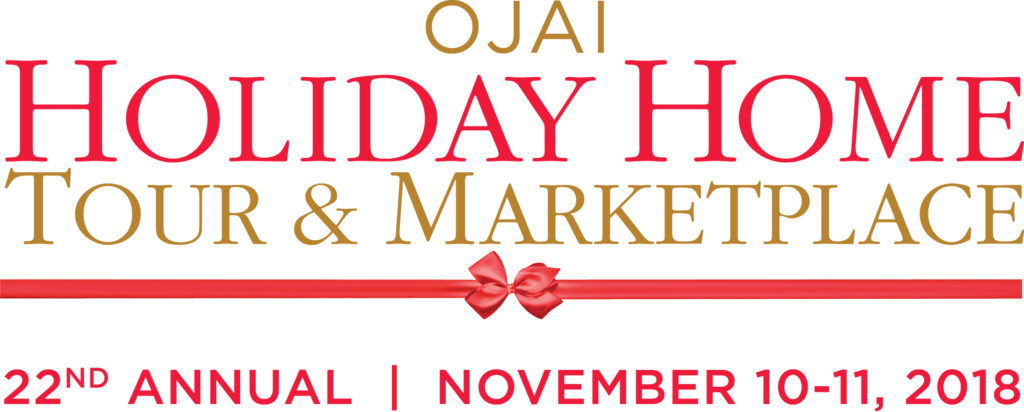 Kick off your holiday season with festive inspirations on Saturday, November 10 and Sunday, November 11. Presented by the Ojai Festival Women's Committee, this treasured tradition, which benefits the Ojai Music Festival and its education program, invites guests to tour four distinctive Ojai Valley homes exceptionally decorated by area designers according to a chosen theme.
Each year we are elated with the fine selection of houses and the gracious homeowners. We are honored to have Patina Farm on this year's tour, the five-acre lush property and home which has garnered critical acclaim for its design elegance and has been on numerous publications including most recently Sunset Magazine. The second residence, boasts an intimate private garden and outdoor kitchen as well as a warm and welcoming interior – a reflection of the owners who are generous in their love of the community. The third is a completely remodeled home with a diverse private art collection. The owners love a good party as you will see by the mirrored disco ball ready to be used! The final home whisks you away to another world with the majestic Topa Topa Mountains as its backyard. The owners have created a beautiful space for their appreciation of art and nostalgia, which includes a real Oscar Award and other fun Hollywood memorabilia owned by the owner.
Taking place the same weekend is the Holiday Marketplace. This popular companion event will feature a collection of curated lifestyle and fashion items from more than 40 vendors. Admission to the Marketplace is free and open to the public. It will be held at Thomas Aquinas Church Hall (185 St. Thomas Drive).
Weekend hours of the self-guided Ojai home tour are 10am to 4pm. The Marketplace hours are 10am to 5:30pm on Saturday and 10am to 4:30pm on Sunday.
The Home Tour and Marketplace will benefit the Ojai Music Festival and its BRAVO education and community program, which offers free music workshops to the Ojai Valley public schools and the community.
The home tour price is $40 per person advance and $45 day of the event. A group discount of 15% is also available for 8 or more people. Organizers request no cameras allowed on the tour or children under 12 years of age. Comfortable shoes are highly recommended (no high-heeled shoes allowed).
Tickets go on sale in the fall by calling 805-646-2053, at participating ticket outlets (Attitude Adjustment, Flora Garden, Rains Department Store, and Fox Fine Jewelers in Ventura. Or order online through this website in the fall.