A Little Piece of Festival History
In doing our semi-annual office clean-out, we discovered several lost (and dusty!) treasures…including this seating chart from 2006: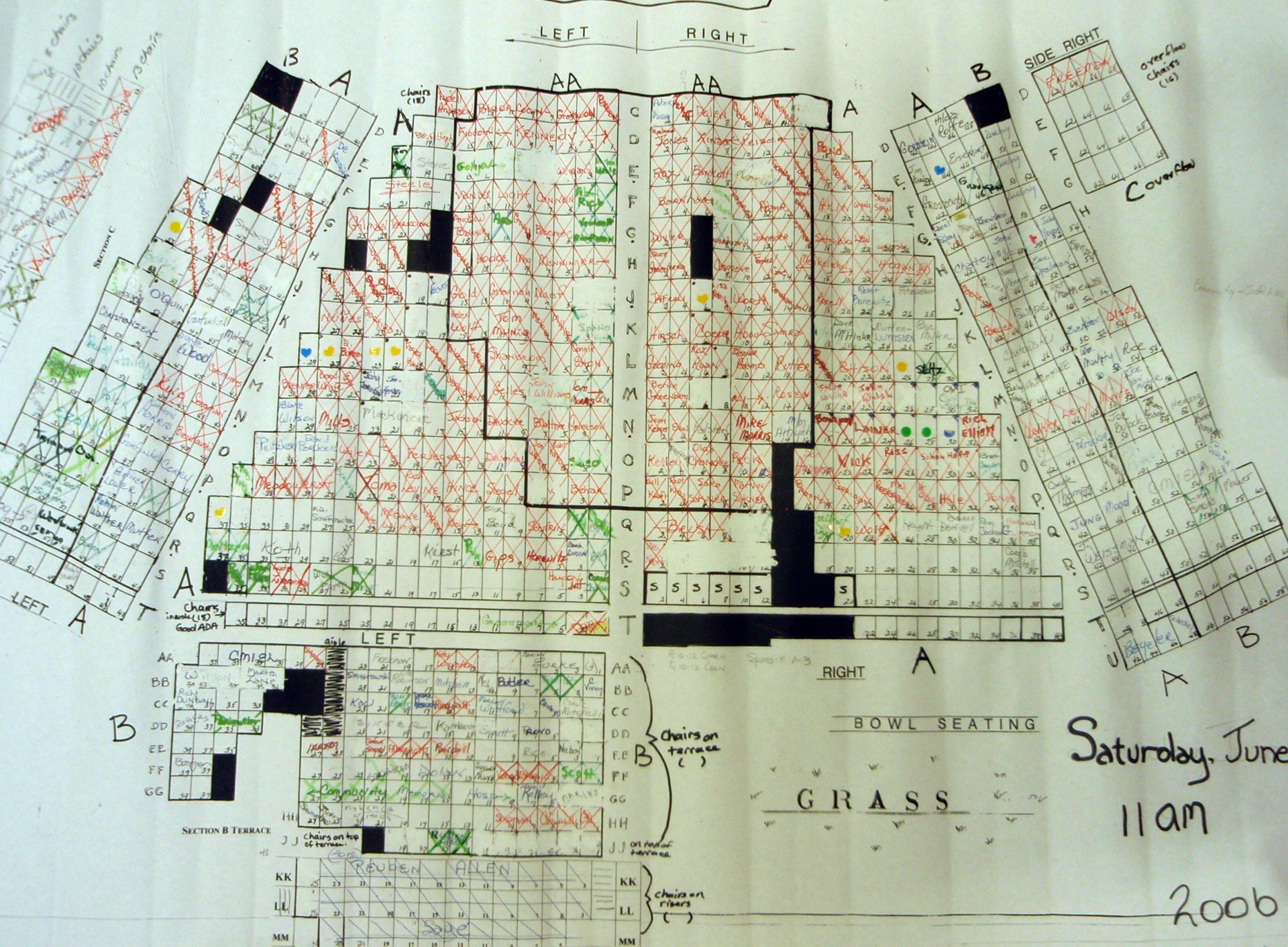 Ojai Music Festival Seating Chart, circa 2006 – click for a larger view
If this looks a long way off from the receipts that you receive today, it's true. Way back before we had a computer-based ticketing system, Festival ticket buyers were handwritten into a paper seating chart—one chart for each concert during Festival weekend. This chart is from the 2006 Saturday Morning concert. Seats that are X'd off are series subscriber seats, while single ticket buyers have been written in between. You can also see the obstructed view seats that were blocked off and the multiple layers of white-out that we had to use when making corrections in the days leading up to the Festival. In the words of Charles Dickens, "It was the best of times, it was the worst of times."
This was an inherited system from Betty Izant, who was the Festival's first administrator during Lawrence Morton's tenure as Artistic Director. Betty had an almost photographic memory for Festival-goers and could remember their names exact seats with incredible precision. Back then, records were meticulously kept on index cards and updated by hand with new information each year.
Needless to say, things are much easier now. All seating information is stored in our computer system and ticket buyers can even purchase seats online (something almost unheard of only five years ago!). The one thing that hasn't changed, however, is the care and attention that we give when seating patrons for each year's Festival.The seating for this year's 2012 Festival will be especially interesting, as we're already close to selling out the AA and A sections of Libbey Bowl. If you haven't yet bought your tickets, you can do so online here or by calling me in the Box Office at (805) 646-2053.