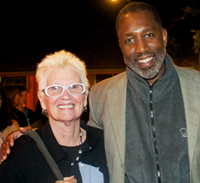 You will always find variety at the Ojai Music Festival – the music, opinions, artists, and even the audience members. And like the artists, our audience members have a passion for music and an appetite for adventure, including Bonnie Wright, who has been attending since 2010.
Bonnie has had a busy career supporting music in both the east and west coasts, from curating the Fresh Sound Music series at Sushi: A Center for the Urban Arts, presenting music at The Loft on the UC San Diego campus to hosting music soirees at her home and most recently establishing Henceforth Records, a label which focuses on contemporary music.
Bonnie is ready to go for 2013 – as a matter of fact – she subscribed right before the 2012 Festival, which gave her an invitation to meet 2014 Music Director Jeremy Denk at our subscriber breakfast during Festival weekend. Recently, Bonnie shared with us what she is looking forward to in 2013, and we couldn't agree with her more!
I am thrilled once again for the programming brilliance of the Ojai Festival. First: Mark Morris!  I've enjoyed his dance and choreography for years but what a nice surprise to have him as Music Director this year.
I look forward to everything that he has programmed.  From a San Diegan's perspective, red fish blue fish is one of the tops.  I have been paying attention to them since they first got started at UCSD under the direction of Steve Schick.
And what will The Rite of Spring sound like performed by The Bad Plus – how cool.
The music of John Luther Adams, Lou Harrison, Messiaen, Terry Riley and Henry Cowell too; what a marvelous treat.  I always love the Ojai Talks led by Ara Guzelimian. How could I not feel like a much smarter person after those?
From my perspective, the Ojai Festival is full of good music, smart talk and casual elegance.  I plan to be there for each Festival as long as I can still wiggle!
– Bonnie Wright
Purchase your 2013 series tickets here >>
photo: Bonnie Wright and fellow subscriber Kurt Wilder at the 2010 Ojai Music Festival.