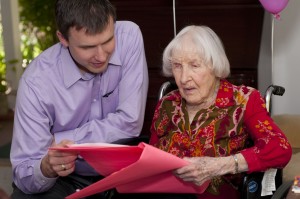 Executive Director Jeffrey Haydon visiting Betty Izant. (photo credit – Sally Rice)
Practically since the days when there first was an Ojai Festival Box Office, Betty Izant was the one who ran it. She is still remembered fondly by many of our long time attendees, as the person who made sure that everyone was well taken care of, and we still have people walk up to the Box Office and ask about her. Betty is Festival history.
Betty recently turned 100, and the Festival is celebrating by planning a surprise party for her on April 17th. If you have fond memories of Betty, please sned them to us at info@ojaifestival.org with Betty Izant in the subject line. We will compile these memories and present them to her on the 17th, where we will also unveil the new Betty Izant Box Office. Thank you for helping us celebrate Betty's amazing contribution to the Festival.