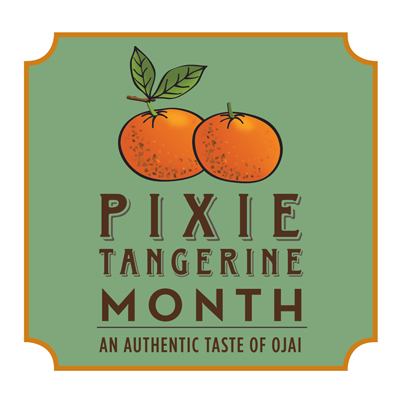 April is Ojai Pixie Month – one of our favorite times of the year! Years ago, over 40 local farmers collaborated to form the Ojai Pixie Growers Association. Ojai's unique micro-climate offers optimal growing conditions for our petite, ultra-sweet tangerines, so we decided to honor them annually in April with Ojai Pixie Month. It's a short harvest season though, usually March through May, so the whole community comes together and celebrates by offering Pixie-centric hotel packages, libation and culinary specials, spa treatments, retail discounts, outdoor activities and much more. Ojai offers a variety of lodging accommodations to fit your family's needs. Check out some of the specials below, and have fun deciding which activities you'd like to participate in! Or, if you'd rather just quietly enjoy Ojai Pixies on your own, pick up a few at a local grocer or Farmer's Market on Sunday, discover one of Ojai's great hiking spots, and see, smell, feel and taste what all the fuss is about!
The Ojai Music Festival is celebrating with Pixie Passes: get up to 20% off of your ticket order!
| | |
| --- | --- |
| Discount Details | Discount Code |
| Reserve seats to 2 concerts, receive 10% off total order | OjaiPixie10 |
| Reserve seats to 4 concerts, receive 15% off total order | OjaiPixie15 |
| Reserve seats to 6 concerts, receive 20% off total order | OjaiPixie20 |
Buy online and use a promo code, valid April 1 – April 30, not valid for previously purchased tickets
Pixie Month Specials – Dine, Shop, Explore and Relax
HOTEL PACKAGES: There's so much to do, you'll want to stay a few days and soak in all the Ojai sunshine. Take advantage of some of the great lodging offers below:
The Oaks: With any lodging package, enjoy a complimentary Ojai Pixie Scrub or a Pixie Pedicure. Give The Oaks a call to learn about all their healthful and fun Pixie offers.
Ojai Valley Inn & Spa: Ojai's five diamond resort celebrates Pixies around every turn of their lovely 220 acres! The Spring Pixies 2017 package includes a Pixie massage at Spa Ojai, two Pixie-inspired cocktails, breakfast for two at The Oak, and a special Pixie Tangerine Welcome Amenity!
The Lavender Inn team loves Pixie Month and celebrates with culinary specials all month. Guests are treated to a fresh, Pixie-inspired breakfast every day outside on the veranda. Explore the beauty of Ojai during the day, and return to the Inn each night for complimentary tapas and house-crafted Pixie cocktails.
Emerald and Blue Iguana Inns celebrate Ojai's famed Pixie Tangerine season with the Pixie Pamper Me Package & Gourmet Gift Basket. Relax, be pampered and celebrate this Pixie season with the all-inclusive, Pixie inspired gourmet gift basket, massage, and dinner package at East End Restaurant & Bar!
Su Nido and Casa Ojai: Enjoy the Pixie season with a 25% discount Sunday through Thursday, and 15% on Friday and Saturday nights! The sweet taste and smell of complimentary Pixies are yours throughout your stay!
CULINARY:
Agave Maria's: Pixie Margarita anyone? Try this fresh squeezed Pixie cocktail on the patio!
Azu features refreshing cocktails and culinary specials all month long – Try a Pixie Drop Martini or a Pixie Blossom Margarita! The White Pixie Ale is available at Ojai Valley Brewery's new taproom, located at Azu. How about a great, messy burger paired with a cold White Pixie Ale?
Bliss Frozen Yogurt: Pixie frozen yogurt and sorbet … what's your pleasure? Best enjoyed while people watching in front!
East End Restaurant & Bar: Enjoy a Pixie old fashioned, a specialty salmon entrée glazed with a pomegranate, pixie salsa over pesto quinoa and seasoned vegetables.
Food Harmonics: Nutritious and delicious! Ojai's 100% organic and gluten-free restaurant serving Vegan, Vegetarian, and Paleo dishes has created a probiotic Pixie Chutney to accompany their dosas and toasts, and will be serving Iced Pixie Kefir on the patio courtyard.
Knead Baking Company: Knead's Citrus Syrup Cake is just too good for words – imagine a delicious cake soaked in Pixie syrup! Knead is serving up lots of sweet and savory special surprises.
Ojai Valley Inn & Spa: Irresistible crème brulee, sorbet, and chocolate Pixie-infused desserts will be served resort-wide. Incomparable views paired with a hand-crafted Pixie cocktail just might be the highlight of your Ojai getaway!
Ojai Coffee Roasting Company: Relax with a fresh squeezed Pixie Tangerine Mocha, topped with whipped cream and Pixie zest, or try a Pixie Tangerine Salad with grilled chicken, fresh strawberries, stilton cheese tossed wtih mixed greens and a Pixie tangerine dressing.
Osteria Monte Grappa: Enjoy a fresh squeezed, Ojai Pixie Margarita on the patio!
Ojai Cafe Emporium: Try the Ojai Pixie Salad, featuring greens, with pixies, roasted beets, and goat cheese.
Revel: Ojai's new Jun Kombucha Brewery & Tasting Room, releases the first ever, freshly juiced Pixie tangerines in sparkling probiotic goodness, served cold and on-tap!
Suzanne's: Longtime favorite Pixie Cosmo is offered, along with tasty Pixie-centric culinary surprises all month long!
Tipple & Ramble: Location … location … Step out onto a lovely patio and enjoy housemade Pixie marmalade served with the cheese boards, and on the weekends, Pixie Aperol Spritz served with a Pixie ginger ricotta tart under lovely shade trees. Ojai at its finest!
SPA:
The Oaks: Relax, and let the knowledgeable spa team at The Oaks offer you their seasonal Ojai Pixie Scrub treatment or a Pixie Pedicure.
The Day Spa of Ojai: Exfoliate in pixie essential oils and pure sea salts with the Ojai Salt Glow body treatment, or the Anti-Aging Vitamin C Pixie Facial to rejuvenate, moisturize, and tone your skin.
Spa Ojai at Ojai Valley Inn & Spa: Luxuriate in the uplifting Ojai Pixie Tangerine Body Polish treatment, and as an extra bonus, this treatment is offered at 20% discount. Seasonal manicures and pedicures are also available for your rejuvenating spa experience.
Enhanced Day Spa: You'll be exhilarated and energized by the Pixie scents in the spa! Enjoy the Ojai Pixie Custard Foot & Calf Treatment, Ojai Dreamsicle Massage, or Pixie Facial!
EarthTonics Botanical Spa: Brighten, balance, and even out your skin tone with a Pixie-infused facial, full of antioxidants! Holistic esthetician Daron Hope has created this rejuvenating facial with her signature botanical tonics.
SHOPPING:
Treasures of Ojai: Hunt for the tangerine-colored price tags, and enjoy those items at 20% off!
The Oaks Spa: Be sure to head over to The Nest for 10% discount on any tangerine-colored items.
Ojai Clothing: There is a distinct Ojai style – Come check out all orange-colored merchandise storewide; it will be offered at 20% discount.
Summer Camp: The popular Ojai Pixie and Citrus Vibes soy candles, infused with high-grade essential oils, are available all month. Both are offered at a 10% discount all month long. Receive a 15% discount on any custom picture frame.
Carolina Gramm Extra Virgin Olive Oil Products: Visit Carolina's eclectic shop and enjoy an exclusive taste of Pixie-infused olive oil!
GloWest: The new salon in town offers 10% discount on Ojai Pixie pedicures and 15% discount on all Ojai Pixie Candles and Happy Trail Bath Soak. Come be pixi-fied!
Ojai Baby: Don't forget about your little ones during Pixie Month – Baby organic Pixie onesies and T's are a must during our celebratory Month!
Azu: Purchase a Hippie Care Package filled with Ojai specialties such as local wine, Palo Santo incense bundle, citrus soy wax candle, Pixie Tangerine Moon Valley Marmalde and, of course, Ojai's sweet Pixies (if picked up locally)! Makes a great gift for a special someone, and be sure to treat yourself too!
ACTIVITIES:
The MOB Shop and Porch Gallery Ojai partner to present Curated Rides for the cultured, curious, and adventurous! Riders will enjoy a two-hour guided tour featuring eight iconic Ojai landmarks. Rides are offered morning, afternoon, and early evening! Teams receive water bottles, signature glass from Porch Gallery and Ojai Pixies!
Cloud Climbers Jeep Tours: Explore birds-eye views of the beautiful patchwork of Ojai's celebrated citrus groves in a custom, open-air Jeep driven by a professional guide. The tour includes a stop at Ojai Olive Oil where you can sample citrus-flavored vinegars and local, award-winning olive oils.
Friends Ranch Orchard Tours: Learn what all the fuss is about! The Pixie story is warmly shared by the Friends family. Kids and adults are treated to samples and picking your own fruit. April tour dates are the 1st, 5th, 15th, 22nd and 29th. Be sure to book in advance!
Ojai Valley Trail Riding Company: Enjoy Ojai's wide open spaces, and take a scenic horseback ride during Ojai Pixie Month! Guests will enjoy fresh Pixies and $10 discount on all rides during April!
Ojai Valley Brewery Party at Azu Restaurant & Bar: Come taste the White Pixie Ale, enjoy Pixie cocktails and mimosas, live entertainment, and complimentary Pixie-centric food 4:00 – 9:00 p.m on Sunday, April 9, 2017!
Ojai Music Festival: Here's your chance to purchase tickets to Ojai's famed annual Music Festival! Classical music lovers from all over the world converge in Ojai in June, and if you purchase tickets during Pixie Month, you'll receive a discount – the more you purchase the greater the discount!
Ojai Farmers Market: Locals and visitors gather at this favorite spot on Sunday mornings from 9am-1pm. Fresh pixies are featured by some of the local growers. Stop by, introduce yourself, and enjoy the Farmers Market vibe! The freshest fruits and vegetables, friendly people, hand-crafted wares and live music await you!
Pixie Open House at Enhanced Day Spa: Come celebrate everything Pixie at Enhanced Day Spa on April 8th, 1 – 4pm! Enjoy a Pixie-inspired, mini spa treatment and complimentary Ojai Pixie cocktails and appetizers. Shop the boutique for pixie special discounts!
Ojai Pixie Tangerine Cooking Class: In an idyllic setting, Chef Robin Goldstein, will create and enjoy tasty dishes such as citrus marinated whitefish crudo, roast organic chicken with Pixies and much more! Book the class, and stay for the night with a $10 discount on your room on April 9, 2017 at the Lavender Inn.

"Pixology" Class: The Inn's award-winning bartending team gives participants a guided demonstration and sampling of two cocktails with Pixie-inspired recipes. Fridays, from 4:30 to 5pm. $25
Pixie Pool Party: Hotel guests can splash the day away during the Inn's Pixie pool celebration on April 8th & 15th! Fun for the whole family – activities counselors will be leading fun games and offering complimentary Pixie popsicles!
Pixie Golf: Think you're seeing orange? Look twice when you see something orange on the golf course. Not only do you get to play on a historic course but you'll enjoy the Inn's limited edition Pixie season golf balls!
The Ojai:117th Annual Tennis Tournament: A longtime Ojai tradition, treat yourself to exciting tennis matches on April 26 – 30, 2017.
All season, fresh Pixies are sold Tuesday and Friday mornings at the Friends Ranch Packing House, and daily at Rainbow Bridge Natural Foods Market, and Westridge Markets.