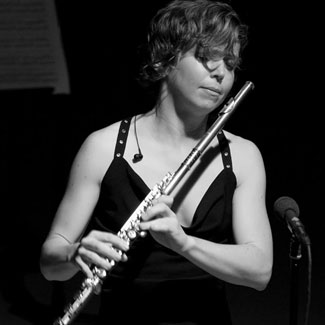 Claire Chase is a soloist, collaborative artist, curator, and advocate for new and experimental music. Over the past decade she has given the world premieres of hundreds of new works for the flute in performances throughout the Americas, Europe, and Asia, and she has championed new music throughout the world by building organizations, forming alliances, pioneering commissioning initiatives, and supporting educational programs that reach new audiences.

Chase has released three celebrated solo albums, Aliento (2010), Terrestre (2012), and Density (2013), and in 2014 launched Density 2036, a 22-year commissioning project to create an entirely new body of repertory for solo flute between 2014 and 2036, the centenary of Edgard Varèse's groundbreaking 1936 flute solo, Density 21.5.
Chase founded the International Contemporary Ensemble (ICE) in 2001, where she currently serves as the co-artistic director in addition to playing over 50 concerts a year as an ensemble member. In 2015, Chase was honored with the American Composers Forum Champion of New Music Award for her leadership of ICE.
In Fall 2015 Chase premiered the new flute concerto by Dai Fujikura with the Nagoya Philharmonic in Japan. In 2015–16 she also undertakes a year-long project with Pascal Gallois in Paris surrounding Boulez and solo tours in Australia and Japan. At home in New York, she will perform at the Brooklyn Academy of Music and Lincoln Center, as well as with ICE in community venues, public spaces, and elementary schools as part of the OpenICE initiative.
She received her BM from the Oberlin College Conservatory of Music in the studio of Michel Debost. Her other principal teachers were John Fonville and Damian Bursill-Hall. She currently lives in Brooklyn.
"the young star of the modern flute" ‐ The New Yorker
"extravagant technique, broad stylistic range and penetrating musicality" ‐ New York Times "a rare combination of grace and guts" ‐ Wall Street Journal
"a virtuoso of amazing dexterity and sensitivity" ‐ Chicago Tribune
"Look out, world. Here comes a monster." ‐ American Record Guide
"spectacular" ‐ The New Yorker
Learn more on Claire's website: www.clairechase.net