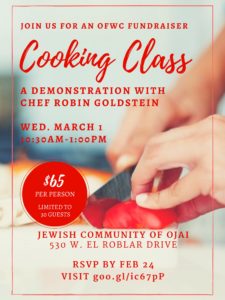 Come join Chef Robin Goldstein as she demonstrates and shares her cooking wisdom and tastes of her Moroccan inspired menu.
Chicken tagine with artichoke hearts
Sweet couscous with caramelized onions, raisins and cinnamon
Bastilla – Morocco's famous chicken pie
Date filled shortbread
Minted green tea with cardamon
All menus are subject to slight changes depending on seasonal availability.
Each participant receives recipes and a tasting of the foods prepared.
About Robin Goldstein
OFWC member, Robin Goldstein is a California chef who works her culinary magic combining unique flavor and spices with local seasonal produce and product, to create an unforgettable culinary experience for the palate and on the plate, in private homes and public venues.
Known as "Private Chef Robin" to celebrity and private clients alike, Robin has made a career of providing an intimate, home-cooked experience that is anything but traditional home-cooked food. Robin uses classic techniques she honed at the Culinary
Institute of America in New York. Through travel and living abroad for a number of years, she has developed and fine-tuned her
California-Mediterranean cooking style, with an emphasis on Middle Eastern flavors.