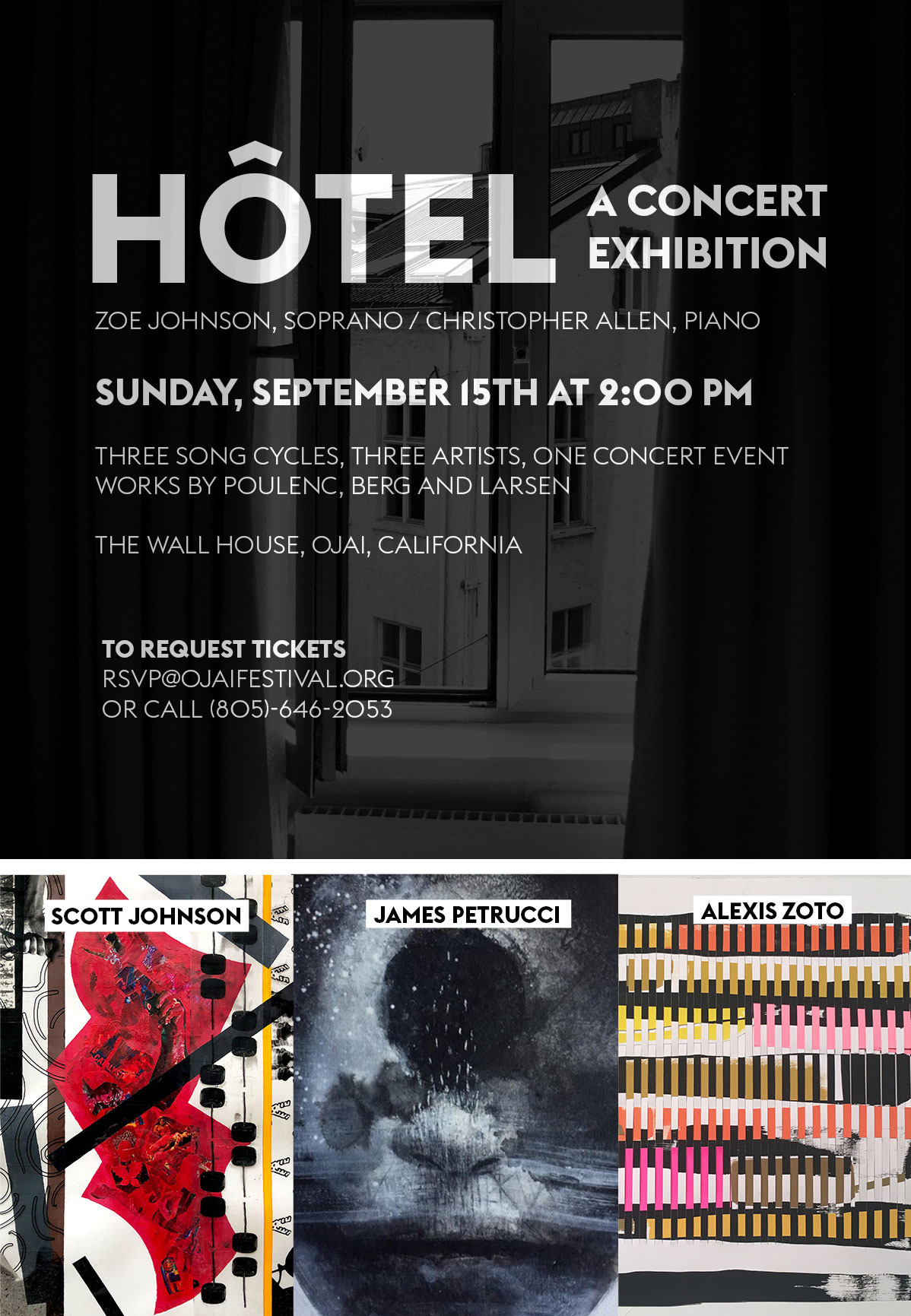 An Exploration of the Aural Aesthetic And Visual Creation
Ojai Music Festival and Porch Gallery invite you to an afternoon of music to celebrate three visual artists that have been commissioned to create contrasting works directly inspired by Francis Poulenc's "Banalités," Alban Berg's "Sieben Fruhe Lieder," and Libby Larsen's "Try Me Good King."
There will be a suggested donation of $25 at the door.
The proceeds from this event benefit the Ojai Music Festival and Porch Gallery.
Date/Time: Sunday, September 15th at 2:00 PM
Artists: Zoe Johnson, Soprano Christopher Allen, Piano James Petrucci, visual artist Scott Johnson, visual artist Alexis Zoto, visual artist
Description: Three visual artists will be commissioned to create three contrasting works directly inspired by Poulenc's "Banalités," Berg's "Sieben Fruhe Lieder," and Larsen's "Try Me Good King."
Musical Compositions:
Poulenc: Banalites (1940) Text: Guillaume Apollinaire
Alban Berg: Sieben Fruhe Lieder (1905-1908) Text: various poets
*** Pause ***
Libby Larsen: Try Me Good King (Five Wives of Henry VIII) (2001) True texts drawn from the final letters and gallow speeches of Katherine of Aragon, Anne Boleyn, Jane Seymour, Anne of Cleves, and Katherine Howard
Itinerary:
Nine paintings will be placed along the wall and covered by white sheets. Zoe Johnson and Christopher Allen will perform works by Poulenc, Berg, and Larsen. After the concert, the three visual artists will speak about how they were inspired by the musical compositions the audience just heard. The nine pieces of art will be unveiled. Wine and light fare will be served, giving the audience time to experience the art. The work will be available for purchase with a portion of the proceeds going to the Ojai Music Festival and Porch Gallery Ojai.
RSVP to rsvp@ojaifestival.org or call Nick Svorinich at 805 646 2053.