December 18, 2017
To my friends at the Ojai Music Festival:
One of the greatest pleasures of the Ojai Music Festival has been heretofore completely unknown musical worlds that have been opened up to me through our work with so many diverse and marvelous artists, from cutting edge composers such as Kaija Saariaho and to virtuoso performers such as Aruna Sairam and Vjay Iyer.
It was precisely the work with Aruna in 2016 and 2017 that exposed me to South Indian Carnatic music. She, as well as Peter Sellars and Mark Morris, have been extolling the virtues of the largest festival of Carnatic music in the world that takes place in Chennai, India – a five million population city on the south eastern shore of India. It is Aruna's home. Repeated invitations from Aruna to attend finally proved irresistible, so Jane and I visited Chennai for ten remarkable days just before Christmas.
First, the festival is simply overwhelming in its scope – something like 2,000 performances that take place all over the city from mid-December through mid-January. The concerts are organized by over 200 independent concert producing "societies" in Chennai, for what is called the "Chennai Music Season". Surprisingly, there is no central organizing body, so planning which performances to attend is a daunting experience. Luckily, we had Aruna to guide us.
Second, the quality and variety of the concerts was breathtaking. We realized how very little we really know about Carnatic music. We were fortunate to hear extraordinary concerts every day including an incredible male vocalist named Sikkil Gurucharan, guitarist R. Prasannam (who has collaborated often with Vijay Iyer), saxophonist Kadri Gopalnath, a trio of tradition Indian wind instruments called the Nadaswaram, and of course an amazing concert by Aruna herself. She is a rock star!
Third, the city is a constantly moving stream of people and vehicles (cars, motorbikes and so-called "rickshaw autos"), an aural onslaught of honking horns and roaring traffic, smells and sights. I have never experienced anything like it. We stayed in a delightful hotel called The Raintree (recommended by Aruna) that was slightly off the city center on a tree-lined street constantly packed with people and vehicles. The food was out of this world.
Aruna was a delightful and warm host who frequently recalled her visit to Ojai. In addition to hearing her concert, she hosted a visit to the famous Shiva Kapaleeshwarar Temple in Chennai, treated us to the most incredible vegetarian feast, as well as hosted us in her and her husband Sai's beautiful home.
Here are two pictures – the first of Jane and me with Aruna after her concert: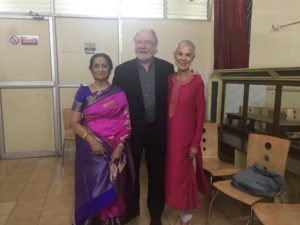 and the second a sign on the outside of a small church not far from our hotel. Some messages never change!