Meet the 2017 Holiday Home Designers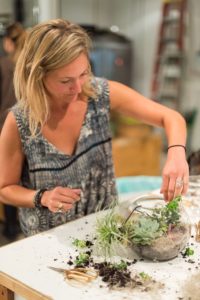 Liz Samia Cohn, Forage Ojai
Elizabeth Samia Cohn is new to Ojai but not new to floral design. For the past 20 years, east coast to west coast, Elizabeth has been designing florals and event venues, and homes ranging from mountain bungalows to coastal interiors. She moved from Boston to Ventura County just three years ago and fell in love with Ojai. She recently purchased the floral design shop formerly known as Digs, and has transformed it into Forage, a beautiful juxtaposition of interior design and florals.
Her work has been seen in Martha Stewart Weddings, Elle Décor, Style Me Pretty and many others. Some of her past clients have included Niche Media, Boston Red Sox, New England Patriots, and Neiman Marcus. Her design approach is to create a full experience for her clients using responsibly sourced florals and design elements, which has given her the opportunity to work in interior and exterior landscape construction, and design for luxury homes and commercial buildings.
Address: 25 Baldwin Road, Ojai, CA; Phone: (805) 646-3447; Web: forageojai.com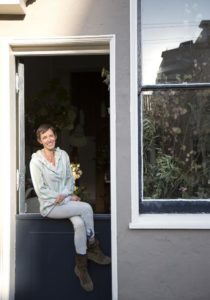 Louesa Roebeck, Foraged Flora
Louesa was born in the middle of Ohio in the middle of the 1960s. She grew up there and Kentucky. After studying printmaking at the Rhode Island School of Design she moved to California and began working at Chez Panisse, where she learned Californian culture and its beauty working closely with Erica Tanov. Louesa then went on to open August, a seminal fashion, art, and community hub which became an early proponent of the intersection of luxury apparel and green socially responsible textile practices. In 200, she returned to her lifelong love of foraged and gleaned floral work.
She divides her time between the Bay Area and Los Angeles, and currently lived in Ojai. She has created floral installations for Vivienne Westwood, John Baldesarri, Michael Pollan, Alice Waters, and Carolyn Murphy for Vogue and House Beautiful. Her floral work has been featured in a number of national and international magazines and media, including Vogue, C magazine, Sunset, and Martha Stewart Living. Her latest venture, Foraged Flora (Ten Speed Press/Random House) is now available for purchase.
Web: LouesaRoebuck.com
Janelle Kandziora, Janelle Interiors Design Showroom

Janelle is the owner and lead designer at Janelle Interiors Design Showroom in Ojai. She specializes in construction design, color consulting, custom furniture, lighting and much more. Janelle has a successful design career furnishing homes all over the greater Los Angeles area, Santa Barbara, and Palm Springs Desert communities.
Janelle received her BA from Metropolitan State University of Minneapolis, Minnesota. Her degree concentrations were specifically in Fine Arts, Art History and Psychology. Her career began with 550 Design of Minneapolis where she trained under a senior staff of highly experienced designers. Specializing in residential and hospitality design, her experience quickly brought her to Palm Desert, California in early 2004. Her desert career began with Ambiance Unlimited where she refined her residential design skills and completed the model homes for PGA West's Greg Norman Estates Country Club. With an interest in construction design she then joined the luxurious Andalusia Country Club design team and assisted owners in the creation of their dream homes. In 2009 she then opened Janelle Interiors as an independent design corporation and has since designed homes in some of the desert's premier clubs.
Relocating to Ojai in 2012 she opened up her design showroom where clients can view the extensive home furnishing resources. Janelle's design approach is, "Simple but Elegant," with attention to the planning of space and style. She prides herself in creating a look and feel that coincides with her clients
dream or vision in any project.
Showroom: (805) 640-0194; Web: JanelleInteriors.com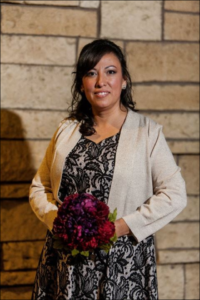 Irma C. Murrillo, Angela's Flowers

Angela's Flowers was originally started by Angela Mc Elroy in Ventura. She decided to move to beautiful Ojai Valley, where she continued to live until recently. Angela then sold the business to Joanne Moore approximately in 1989, who owned it until about 2006, until she decided to sell it to friend Laurie Barnett who then sold it to Irma. Irma began working for Angela's Flowers when she was just a sophomore at the local high school. It was her first job and honestly believes it will be her last. She loves what she does so much it doesn't seem like work, and has been with the business for over 20 years.
Address: 226 W Ojai Ave #102, Ojai; Phone: (805) 646-5404; Web: AngelasFlowersOjai.com