Meet the 2016 Ojai Holiday Home Designers
An essential part of the annual Ojai Holiday Home Tour is the festive inspirations created by the select floral designers who work with each homeowner. Meet the 2017 designers:
Angela's Flowers
Irma Murillo, owner
Home: Carroll House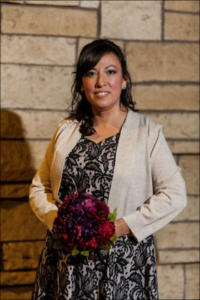 Since 2010, Irma Murillo has been the proud owner of Angela's Flowers although she had been working at the shop when she was just a sophomore attending Nordhoff High School. At that time, she learned from the original owner Joanne Moore. Irma has made Angela's Flowers a continued success, nominated Best Florist in Ojai for several years in a row. She is a proud resident of the valley with her husband Juan Murillo, her children Carlos, Natali and Gabriel as well as her "adopted children," her chinchilla Chinch and her cat Lulu.
Address: 226 W Ojai Ave #102
Phone: (805) 646-5404
Web: angelasflowersojai.com
---
Digs Design
Lynn Malone, owner
Home: El Toro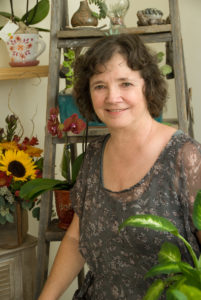 With over 20 years managing fundraising events for various Ojai nonprofits including the Ojai Music Festival, Lynn Malone, owner and lead designer at Digs, has made an art of creating exquisite event designs on a budget, a befitting skill to help benefit the annual Holiday Home Look In fundraiser.
For the past three years, Digs has strived to bring joyous Holiday designs to showcased homes on the tour much to the delight of guests who were excited and inspired by creative décor for the holidays. This year, Lynn and her team look forward to embellishing a historic Spanish revival home steeped in rich memories of bygone eras.
The Digs team is excited to work with the homeowners of the El Toro house to create holiday designs honoring the home's historic significance, as well as the many fond memories of Christmases past as shared by the homeowner and the design team. Don't be surprised to see a few that you grew up with too. Departing from traditional reds and greens, however, this year's designs will incorporate winter whites, and the bountiful fruits and greens of the season and of the property itself. You'll see many of the lush landscape elements found on the property incorporated into the Holiday floral designs.
As has come to be expected of Team Digs, you'll also be treated to a bit of whimsy and some modern holiday touches too, including, of course, "Grace," our signature holiday mannequin who, once again, will be dressed in her finest Holiday greenery for the season. As always, Digs hopes to inspire excitement to decorate your home for the upcoming holidays. However, if time runs short for DIY decorating or gifting, we are always happy to help. Some of the creations you'll see on the tour will be available at Digs throughout the holiday season.
Address: On the corner of Baldwin Road and Highway 33
Phone: (805) 646-3447
Web: YourDigsDesigns.com
---
Janelle Interiors Design Showroom
Janelle Kandziora, owner
Home: Ladera Ranch Home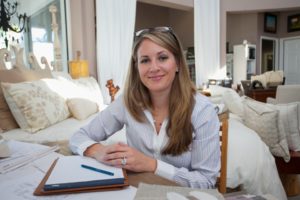 Janelle is the owner and lead designer at Janelle Interiors Design Showroom in Ojai. She specializes in construction design, color consulting, custom furniture, lighting and much more. Janelle has a successful design career furnishing homes all over the greater Los Angeles area, Santa Barbara, and Palm Springs Desert communities.
Her career began with 550 Design of Minneapolis where she trained under a senior staff of highly experienced designers. Specializing in residential and hospitality design, her experience quickly brought her to Palm Desert, California in early 2004. Her desert career began with Ambiance Unlimited where she refined her residential design skills and completed the model homes for PGA West's Greg Norman Estates Country Club. With an interest in construction design she then joined the luxurious Andalusia Country Club design team and assisted owners in the creation of their dream homes. In 2009 she then opened Janelle Interiors as an independent design corporation and has since designed homes in some of the desert's premier clubs.
Relocating to Ojai in 2012 she opened up her design showroom where clients can view the extensive home furnishing resources. Janelle's design approach is, "Simple but Elegant," with attention to the planning of space and style. She prides herself in creating a look and feel that coincides with her clients dream or vision in any project.
Address: 987 W Ojai Ave
Showroom: (805) 640-0194
Email: [email protected]
Web: janelleinteriors.com
---
Passion Flowers
Michelle Rein, owner
Home: Libbey House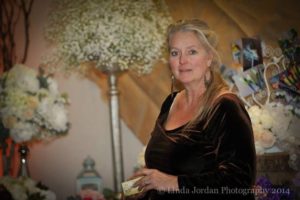 Founder and entrepreneur of Passion Flowers Ventura Michelle Rein has been passionate about flowers her whole life. In business for over 35 years, Michelle still loves creating with the gift of nature and all its colors and elements. Her shop is open daily and one of the great enjoyments is her customers. Besides the daily routine of the floral shop, Michelle loves working with clients for special events, celebrations, and tributes. Every piece is created heartfelt.
Address: 920 E Main St., Ventura
Phone: (805)641-1076
Web: passionflowersventura.com