Ojai Music Festival expresses gratitude for support
Gratitude.  On this Thanksgiving I want to extend my gratitude to the hundreds of volunteers,
donors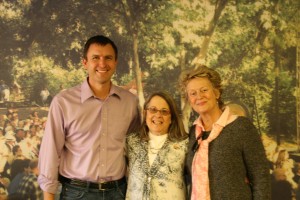 ,
audience members
, and artists who selflessly give of their time, talent, and money to support the
Ojai Music Festival.
  All of us share a common passion in the interest of exploring the highest forms of creativity expressed through music and sustaining one of the most engaging musical experiences all of us have each year—the
Ojai Music Festival
.  This annual pilgrimage only exists because each of us helps to support it in our own, unique way which makes it a culmination of all of our collective efforts.
Thank you for your interest, trust, and dedication to the Ojai Music Festival.
With gratitude,
Jeff
photo caption: At the volunteer luncheon in November, the Festival honored longtime volunteer coordinator Jessica Murray (center). Operations director Gillian McManus (right) helps oversee the enormous efforts of our volunteers with Jessica.