Rehearsals for Winds of Destiny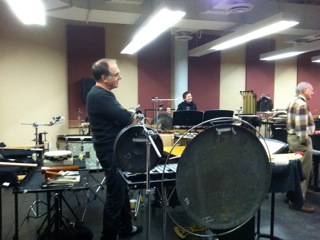 Festival Producer and all-around wonderwoman Susan Anderson is in NYC where Dawn Upshaw and Peter Sellars are rehearsing the Winds of Destiny for the Friday Night Concert. Her dispatch:
"Wow – is this going well! I will make a later post about how moving and powerful a work this is, and how completely fascinating it is to watch Peter Sellars' mind work. I'm used to watching musicians work together to learn a work and find it's meaning, but Peter's kind of vision and the power of his descriptions are really remarkable. Tom and I are blown away, as, really, are all the performers.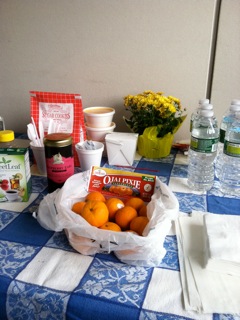 But I don't have photos of anything that serious. I'm trying to leave them alone when they're actually playing or discussing the work. So my photos taken over the last couple of days are to introduce the cast of characters and see them in more relaxed moments. Here are a few:
First, I set up some coffee, tea and snacks in the conference room across from our rehearsal studio. It works well for our breaks and lunches. Being over on 12th Avenue, just across from the Hudson River puts us a few blocks from the closest restaurants, so we're doing take out every day. Yesterday Thai. Today sandwiches. As a personal triumph, I am happy to report that I found OJAI PIXIES and ZHENA'S TEA in the local grocery store. A big hit – and a reminder that we are nearly in Ojai (at least in spirit) despite looking out on a typical New York skyline of rooptop water towers and warehouses."