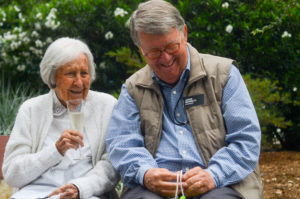 To Our Dear Patrons,
Two weeks ago, we received the very sad news that our long time friend and supporter Bernice Jeffrey had just passed away. Many of you knew her and others of you were aware of her unfailing attendance and support of the Festival. Last year we featured her and her extraordinary gift in 2017 to our endowment in an article in the Festival's program book. It is worth a re-read as we remember Bernice:
Sitting among those gathered for this and the past sixty years has been a loyal and generous patron, Bernice Jeffrey. Bernice attended with her husband, Jeff, for fifty-eight of those Festivals.
We dedicate this year's Festival to the unwavering support Bernice and Jeff have given to the Festival. As career-long UCLA Professors, both understood the importance of philanthropy in support of non-profit excellence. They never missed a year of being among the Festival's most generous donors. This year, in addition to her annual support for the Festival, Bernice has made a new and pivotal donation: an endowment gift of one million dollars. And, as she had hoped, her gift became inspirational for others. Upon hearing of this donation, our Board Chair, David Nygren, made a very generous bequest to this endowment of his own.
These gifts and bequests to the endowment are core to ensuring that the work of the Festival will continue, and the margin for musical excellence will be maintained.
To honor Bernice and Jeff, we have placed, under the oaks in the lawn area, an historic bench from the Libbey Bowl with the same seat numbers, G 45 and G 47, where Bernice and Jeff sat together for more than five decades.
Their loyalty and their philanthropy are an inspiration to all. Bernice hopes that when you look at the bench you will be moved to join her in supporting the Festival with a current donation, and also consider a bequest or donation to the endowment of your own….ensuring that you and others will experience the Ojai Music Festival for years to come.
Bernice will be missed by all of us. The bench and plaque created last year to memorialize Bernice and Jeff's steadfast support will be brought out and placed under the oaks in the Bowl for the duration of the festival this and each June going forward…
We look forward to seeing you very soon,
Jamie Bennett, President