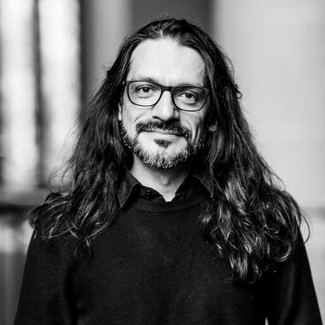 Born in 1973 in Costa Rica into a family of luthiers, Rodney Prada began his musical studies at a very young age in his hometown. He moved to Italy at the age of 11 where he continued his training at the Civic School of Music in Milan (now Civica Scuola di Musica Claudio Abbado) and where he devoted himself to the study of the viola da gamba under the guidance of Roberto Gini and Vittorio Ghielmi.
Quickly establishing himself in the Italian and European music scene, he collaborates with leading ensembles such as Elyma, Il Giardino Armonico, La Fenice, Les Musiciens du Louvre, Europa Galante, Byzantine Academy, Les Talens Lyriques, Concerto Italiano, Il Suonar Parlante, Accademia del Piacere. , La Venexiana, L'Amoroso, Labyrinto, Italian Quartet of Viole da gamba, La Capella della Pietà de 'Turchini, L'Arpeggiata, with concerts for the major musical institutions in Europe and in North and South America.
As a soloist and with Il Suonar Parlante, in addition to the ancient repertoire, he also experiments with the contemporary and jazz repertoire in projects that contemplate the use of ancient instruments in current musical contexts, collaborating with young Italian composers and jazz players such as Uri Caine, Ernst Reijseger and Kenny Wheeler.
He has recorded for Teldec, Astrée, K617, Opus111, Winter & Winter, Symphonia, Glossa, Arts, Naive and Tactus.
In 2007 he participated with Stefano Montanari and Maurizio Salerno in the recording, for the magazine "Amadeus", of the complete sonatas for violin, viola da gamba and b.c. by Buxtehude.
He teaches viola da gamba at the Claudio Abbado Civic School of Music in Milan.