Thank you for 

supporting

 the return of the beloved Ojai Holiday Home Tour & Marketplace!
What a delight to share the return to our in-person home tours with all of you after a two-year pause.  Your enthusiasm was contagious. Your positive reaction to the variety of homes and styles is an affirming endorsement.
Thank you for spending your weekend with us in support of the Ojai Music Festival and its BRAVO music education program in the public schools. I hope you enjoyed yourselves at the event as much as we enjoyed  preparing for your arrival.
The Ojai Festival Women's Committee looks forward to having you join us again next year when we will be unveiling newfound architectural treasures of Ojai.
Thank you for your support,
Laurel Crary,
Ojai Festival Women's Committee President
Interested in learning more about the Ojai Festival Women's Committee. You can learn more about this remarkable group here >
About the Home Tour and Designers
The Ojai Holiday Home Tour celebrates its 25th anniversary with four never-before-seen properties in the bucolic Ojai Valley. We all anticipate the experience of walking through the homes, admiring styling, artwork, and holiday decor. The event proudly presents homes to represent the eclectic and varied architectural and lifestyles of Ojai. From an elegant farmhouse, a contemporary Mediterranean to cozy small homes, you will find it all and more in this year's selection!
This year's four homes are: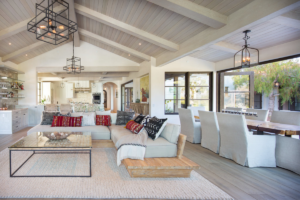 Hacienda Moderna
A gorgeous hilltop home on three-plus acres is buffered to make the world seem far away, yet, is close to downtown Ojai. Reminiscent of the 1925 era with a taste of Italy, Tom Meany's architectural design exhibits integrity as seen in its solid beams, arched doorways, detailed tile work and more.
Holiday Decor by Hearth Homes Interiors | Floral Holiday Decor by Ojai Blooms
Original interior design by Shand Design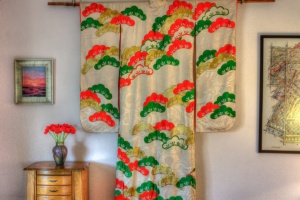 Casa de Indigo
If you're thinking of downsizing, this home will inspire you. This gem of a manufactured home may be compact, but it is teeming with mementos that express the stories of a full, dynamic life. The homeowner's collection captures highlights of her myriad adventures. From her elegantly displayed Japanese kimono to her autographed poster of Jimi Hendrix, you will witness her full life.
Floral Holiday Decor by Stacey Morris of Blooming Ruby's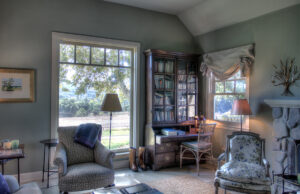 B Hill Farm
This traditional Ojai Farmhouse really has it all. Family and friends cannot help but feel completely at home in this rustic and elegant space, from double Dutch doors in the kitchen and a wrap-around front porch to delightful painted floors in the foyer. The "hobby farm" is complete with orchards, vineyards, vegetable and herb gardens, chickens, and a horse ring. 11 acres offer plenty of possibilities to work and play!
Floral Holiday Decor by Eileen Cavanaugh of Palomar Farm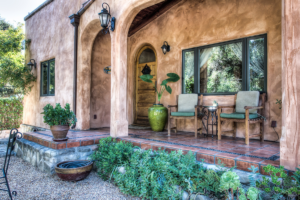 Downtown Casita
You won't believe this delightfully cozy and welcoming home began life in 1952 as a Sears kit house. The current owners have completely transformed it into a sweet sanctuary for family and friends, adding artistic details while still honoring the original design. Inspired by aspects of the Ojai Arcade and Balboa Park, it features meticulous attention to architectural details including RTK tile accents and beamed ceilings.
Floral Holiday Decor by Lynn Malone
The companion event to the Ojai Holiday Home Tour is the popular Holiday Marketplace at the center of downtown Ojai in Libbey Park. With 48 vendors and artisans, discover great holiday gifts for your shopping list!  The Marketplace is free and open to the public.
VENDORS WILL INCLUDE

About our Partners and Sponsors
The success of the Ojai Holiday Home Tour & Marketplace is made possible by the patrons and businesses who lend their financial and in-kind support. If you are interested in becoming a sponsor, click here>>