Why I Support the BRAVO! Music Education Program Pt. 2
Judy Vander returns as our guest blogger for the second installment of her post on what it is that makes BRAVO! such a special program. Last time, Judy explained the BRAVO's several unique workshops; this week she introduces a few of the incredible artists make the program so successful.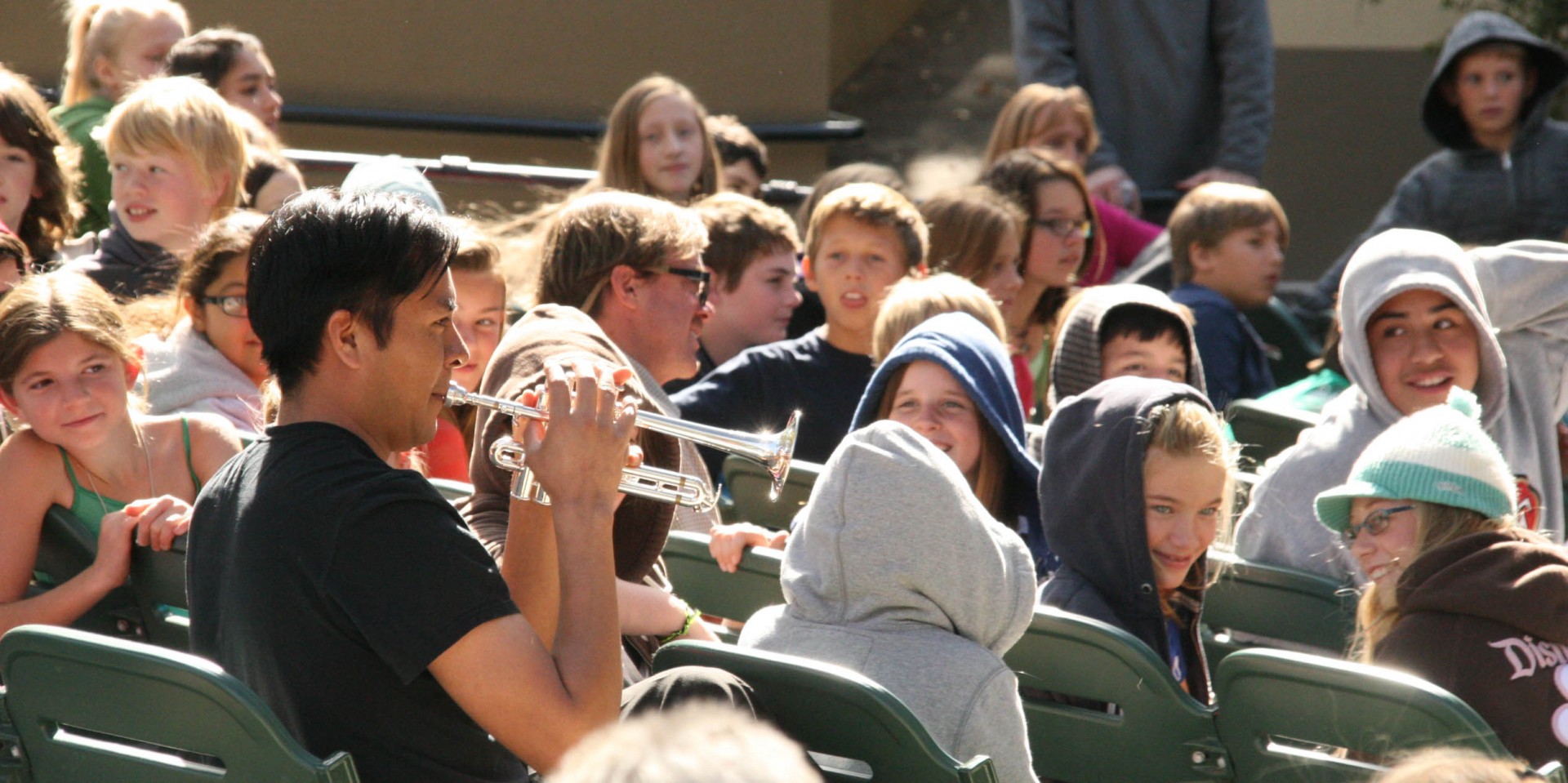 BRAVO!'s October Metales Concert

Another reason why I'm proud to support the BRAVO! Program is its collection of extraordinary artists who present their own, unique workshops for the students.
Andy Radford, bassoonist, is BRAVO!'s overall Coordinator/Director. He presents his amazing Adopt-a-Musician workshop,  which includes focused listening: learning to recognize the instruments of the orchestra as well as recognize musical patterns.  From his rich background of performing for major movie studios, Andy shows how music underscores and enhances the emotional/expressive aspects of movies.
Andy is joined by three other outstanding musicians—Julie Tumamait, Judy Piazza, and John Zeretzke—who teach different strands of world music. Julie Tumamait, a member of the Chumash tribe, teaches both Chumash songs and Chumash culture to the students. This is an unusual and authentic experience for the students, an opportunity for cross cultural contact and learning that not even many adult Americans have ever had.  Judy Piazza has studied drum music around the world and the songs that go with the drum patterns. She enriches the musical brew for the students in her own wonderful way—teaching songs and rhythmic patterns, along with the history and geography from whatever part of the world the songs and rhythms originate.
John Zeretzke is a master performer of instruments from around the world, and has composed scores for dance and theater. He gives Ojai students demonstrations on flutes from around the world and lectures on the development of instruments.  Most recently, he created the "Flutes Across the World" program for elementary students. In it, he makes flutes from pipes and given each student two flutes to complete by sanding and decorating. One flute is for the Ojai student to keep and  John takes the second flute, which includes a picture of the Ojai student who decorated it, and personally gives it to a student of a third world country. John's program teaches music, art, and so much more: he teaches the connection between all people, generosity, and altruism.  He has received a United Nations award for this work.
Is there another music education program of this unique quality in California?  In the United States?  Why am I proud to support the BRAVO! programs?  Let me count the ways!
To learn more about BRAVO! click here.