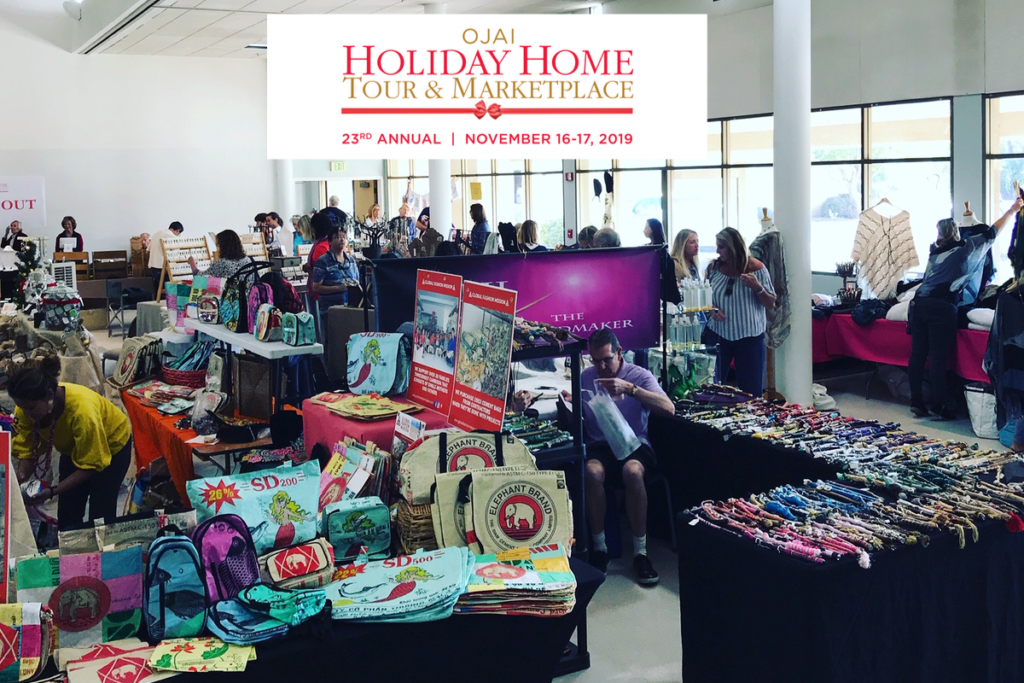 November 16 and 17, 2019
Saturday Hours: 10am-5:30pm
Sunday Hours: 10am-4:30pm
Open to the public. Free Admission
NEW location – Libbey Park, fountain area
The celebration of the holidays continues at the Holiday Marketplace in conjunction with the Ojai Holiday Home Tour presented by the Ojai Festival Women's Committee. Enjoy a curated collection of artisans and vendors, featuring unique items perfect for completing your gift giving list, or for your own indulgence!
This year, the Marketplace will move into the heart of downtown Ojai at the Libbey Park's fountain area. Shop and listen to music, plus dine at neighboring restaurants and peruse at the Arcade. Free public parking lots are available in the nearby area.
A portion of the sales will benefit the Ojai Music Festival and its BRAVO program in the schools and community.
Check out the growing list of the 2019 Vendors at the Marketplace!
Jewelry
Cindy Kalmenson
Little Muse
Patricia Cuenot
Ramina Rechard Pearls
Shari Milner Designs
Home Décor and Gifts
Art Mina
Bazaar Boutique
Bliss Art Designs
Bohemian Bowls
Firestick Pottery
Heritage Succulents
Hostess Gifts to Go
Istanbul Art Design
Laura Stitches
Lavender Blue
Little City Designs
Metal Mountain
Once Upon a Storybook
Sweet Mello
Susan Bruce
Terry Sharp wood
Edibles
Julie's Cookies
Gourmet Blends
Clothing and Wearable Art
Alpaca by Karim
Art Couture Dominique
Dale Michele
Gerie's Fashion Closet
Leslie Marcus
Limelight Boutique
Louise's Hats
Tiny Tot Threads
Your Needs Company
Bath and Body
Fiamma Naturals
From the Heart of Ojai
Ojai Dirt Candy
Interested in becoming a vendor at the Holiday Marketplace?
We carefully choose our Marketplace vendors to ensure we do not have too many of the same type of vendor and to ensure the best possible shopping experience for our patrons. If you would like to request to be invited please provide the following information to info@ojaifestival.org.
Name of Your Shop/Company
Point of Contact information (name, phone number, email address, mailing address)
Type of Merchandise
Photographs of Merchandise
Price Range
Link to your Website
The cost to vendors to participate in the Holiday Marketplace is $50 (nonrefundable) plus 23% of sales. The Marketplace is a fundraiser of the Ojai Festival Women's Committee; funds raised support the Ojai Music Festival and the BRAVO! music education program. All monies from Marketplace sales will be collected at a cashier's table.