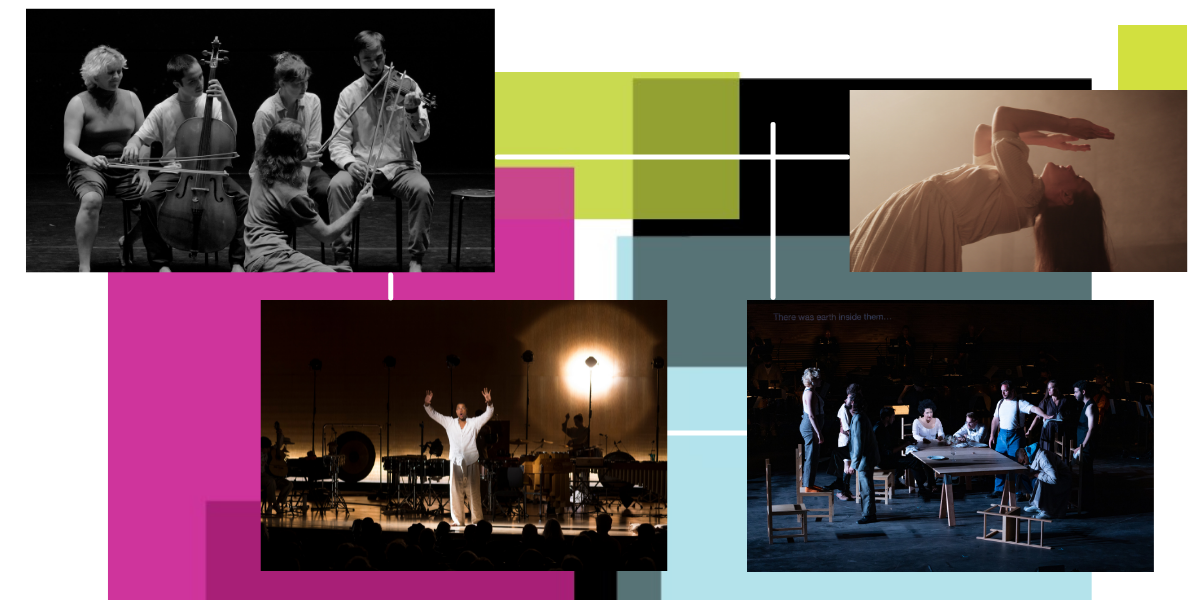 Audiences expect to get a glimpse of the musical future at Ojai. Not as a sci-fi fantasy of escape but through encounters with visionary artists who are actively transforming the real-world landscape: precisely the kinds of artists attracted to AMOC, a collective of 17 musical thinkers and performers. As the Festival's Music Director for 2022, AMOC (the acronym for American Modern Opera Company) practices a model of curation grounded in interdisciplinary collaboration.
AMOC gathers like-minded singers, dancers, instrumentalists, and composers who are each at the cutting-edge of their respective fields. It's the rock super-group of contemporary classical music. "What has been essential for us as a company is that every project is in some way interdisciplinary," explains composer, pianist, conductor, and writer Matthew Aucoin, who co-founded AMOC with choreographer/director and dancer Zack Winokur in 2017. "We're excited to bring the theatricality that is inherent in every AMOC project to Ojai." 'Collision' is a favorite image to illustrate how their multifaceted, discipline-crossing approach works. "There's always a collision, whether that's between music and dance or music and text and dance," Aucoin adds. Or, as the Festival's Artistic and Executive Director Ara Guzelimian puts it: "When you have all of these incredibly vibrant artistic atoms colliding with each other, what results is often the very surprising and very unexpected."
"As a collective, there are many tentacles to AMOC. Its artists have many diverse gifts, and the whole company has been involved in the programming," says Aucoin. For example, Family Dinner, his own cycle of mini-concertos, will each feature a different member of the company and include spoken "toasts." This is among the exciting world premieres that will grace the 2022 Festival to be held June 9 to 12. AMOC choreographer Bobbi Jene Smith will create a new, collaborative dance piece adapting and extending parts of her recent film Broken Theater and showcasing the AMOC family. Smith will choreograph music by Schubert, Bach, Connie Converse, and Pete Seeger, developing a scenario in which the rehearsal process is deconstructed.
Indeed, dance will play an especially prominent role in this edition of Ojai Festival. Smith is joined by Or Schraiber, Yiannis Logothetis, and Coleman Itzkoff in creating Waiting, a new dance-music piece about the bonds of friendship and its attendant moral quandaries that is tinged with 1960s-style French theater of the absurd.
A significant number of AMOC's members have developed careers in opera — an interdisciplinary pursuit by definition — including soprano Julia Bullock, bass-baritone Davóne Tines, tenor Paul Appleby, and countertenor Anthony Roth Costanzo. It's characteristic of the company that they strive to expand our expectations of what opera can encompass. Aucoin, a 2018 MacArthur Fellow, took on opera's foundational myth with Eurydice, his setting of a play by Sarah Ruhl that reconsiders the myth of Orpheus and his descent into the Underworld from his wife's point of view. Eurydice was premiered in 2020 by Los Angeles Opera, where Aucoin is artist-in-residence, and the Metropolitan Opera presented a new production earlier this season that was broadcast internationally in HD.
Among the highlights of Ojai 2022 will be the world premiere staging by Zack Winokur, with choreography by Bobbi Jene Smith and Or Schraiber, of Olivier Messiaen's 1945 song cycle Harawi. The Andean musical tradition illuminates the legend of Tristan and Isolde in this hour-long song cycle for soprano and piano. Julia Bullock has long envisioned a performance that explores the cycle's dichotomies of "spirituality and sensuality, love and death, men and women." Drawing together five AMOC members (pianist Conor Hanick, along with the aforementioned artists), this version will layer theatrical and choreographic interpretations with multicultural reflection and musical performance. "With every composer who wants to celebrate other cultures that they've experienced or been deeply inspired by, there's always this danger of appropriation that I wanted to be conscious of," says Bullock. She has therefore invited the voices of artists of indigenous Andean traditions to share their musical or dance traditions as a counterpart.
Another song cycle on the program highlights the extraordinary music of composer, pianist, and scholar Anthony Cheung: echoing of tenses, commissioned by AMOC, sets the words of Asian-American poets who reflect on issues of family, identity, migration, and loss. Paul Appleby will be joined by Conor Hanick and violinist Miranda Cuckson to perform Cheung's blend of live performance and pre-recorded sound design.
Interpretation-as-collaboration: this is AMOC's signature, Winokur observes. "Part of the reason we started the company is that the members are not being asked to interpret something already there but form these ideas collaboratively — and often leading out of their own passions, experiences and desires. We're good at shape-shifting to support different members in the company's projects and ideas. Ojai is a perfect place to do this because of its rich history of birthing so many important projects that still live in the world."
"They are ahead of their time," says Guzelimian. "The fact that they make the creation and the performance of work integral is also a critical statement about how a new generation of artists works." Many of AMOC's members have friendships and working relationships that go back to their student days at Juilliard — bonds that have intensified their collaborative process. Their extraordinary range of interests widens their expressive palette as well. New music meets early music in several of their programs, and the period instrument group/continuo band Ruckus regularly includes musicians who overlap with AMOC, such as composer and bassoonist Doug Balliett and composer and flutist Emi Ferguson. Ruckus will join in some events to expand AMOC's ensemble. And since several of the AMOCers are avid hikers and lovers of the outdoors, audiences can expect to encounter music in unusual natural settings.
These collaborations allow AMOC to present performances in novel contexts, such as a program devoted to the works of Julius Eastman, for which special guest collaborator Seth Parker Woods shares his inspiring engagement with Eastman's legacy. Another discovery awaits in a rare solo performance by pianist Conor Hanick of Hans Otte's The Book of Sounds. A polymath artist who combined music, poetry, drawings, and art videos, Otte wrote in a Minimalist style that incorporates impulses from Eastern mysticism. The result, says Guzelimian, is "revelatory."
Even a composer as familiar as J.S. Bach will emerge in a new light in a Libbey Bowl event offering contemporary reflections on his instrumental music, including pieces by Cassandra Miller and Reiko Fueting.
Some of the AMOC musicians are already familiar to Ojai audiences. Davóne Tines made his Festival debut in 2016 with Music Director Peter Sellars.  Emi Ferguson was featured in the recent 2021 edition. So did the venturesome violinist and violist Miranda Cuckson. "I loved the experience of playing for the Ojai audience," she recalls. "Their receptiveness to all kinds of experiences was very palpable." Julia Bullock made her first-ever appearance at a music festival when Dawn Upshaw invited her to appear at Ojai. For the soprano, "Ojai is a place of comfort, of real communion making, of openness and generosity — a place where community seems to be built."
Similarly, the Ojai experience of intensive, contemplative music-making seems to be in AMOC's DNA. "We try to create a festival atmosphere every summer at our residency/creative retreat in Vermont," Aucoin says. That is the context for which he began creating the concertos in Family Dinner, as showcases to bring the company together after months of being separated during the regular year. "We want to bring that family spirit to Ojai," Aucoin says. Winokur adds: "When we started the company, we had the thought that festivals were the best way to experience AMOC and for us to experience each other. We hope that will be the experience for the Ojai audience as well. Performing post-COVID, this is a time where we have to get back to the basics of why we do this."
—Thomas May