Density & The Inner Spectrum of Variables
On Friday, June 9 at 1:00pm, the Ojai Music Festival features selections from Claire Chase's ambitious Density 2036 project and Tyshawn Sorey Double Trio's The Inner Spectrum of Variables.
Density 2036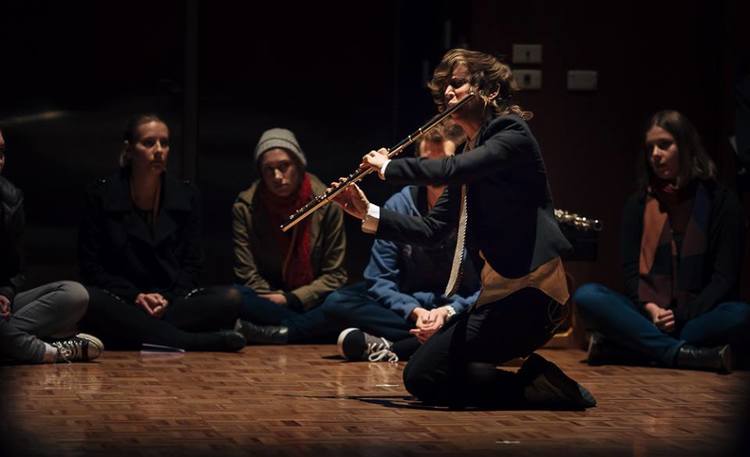 Here is an overview of the Density 2036 project, taken from Claire Chase's website:
Density 2036 is a 22-year project begun by Claire Chase in 2014 to commission an entirely new body of repertory for solo flute each year until the 100th Anniversary of Edgard Varèse's groundbreaking 1936 flute solo, Density 21.5. Each season between 2014-2036, Claire will premiere a new 60-minute program of solo flute work commissioned that year in a special performance at The Kitchen in New York City and on tour in select cities thereafter. Additionally, each cycle of works (Density 2014, Density 2015, Density 2020, etc) will be released in their world premiere recordings annually, and scores, performance notes and materials be made available digitally as educational resources for flutists everywhere.
Every three years of the cycle (Density 2016, Density 2019, etc) a retrospective event will be held in which Claire will perform cumulative concerts of all Density work commissioned up until that date. In 2036, a 24-hour marathon will take place.
Chase just won the Avery Fisher Prize, which is awarded every few years to recognize musical excellence, vision and leadership. Read this New York Times article for more information on Density 2036 and this exciting announcement.
On Friday Afternoon, Chase begins her performance with Edgard Varèse's Density 21.5, the 1936 solo mentioned above. In this concert, she will play pieces composed by Ojai artists, including Tyshawn Sorey's Bertha's Lair and Vijay Iyer's Flute Goals for tape. Chase's performance will also feature… you! We are seeking patrons who would like to participate in Marcos Balter's Pan. No musical training or experience is necessary! Participants will play tuned wine glasses, ocarinas, chimes, triangles, and other small handheld percussion instruments.
The rehearsal will take place Thursday, June 8 from 3:15 to 4:00. This means that participants will not be able to attend the Thursday Ojai Talks.
If you'd like to perform or request more information about Pan, please contact [email protected]
The Inner Spectrum of Variables
From the liner notes of The Inner Spectrum of Variables CD:
Composed in 2015, The Inner Spectrum of Variables is an extended composition that deals with variables in improvisation and structure, the main ingredients that make each performance unique. The work draws from a breadth of influences, considers diversity in improvisational approach (e.g., open, modal, gestural, conducted, prescribed, relational), and structurally deals with multiple harmonic, formal, and rhythmic strategies. Inspired largely by the work of improviser-composers Butch Morris, Harold Budd, and Anthony Braxton, as well as Ethiopian modal jazz, klezmer, and Western art music traditions, Variables is a highly flexible score that can be performed in a myriad of ways. The version heard on this recording employs conducted improvisation (the score contains a lexicon of visual cues for the conductor to use at any point during a given performance to enable real-time improvisation), but the work can also be realized with the performers following prescribed directives for improvisation or without any improvisation at all. I hope that you will enjoy the experience, and I thank you for listening.
Considering the piece's flexibility, the performance on Friday will have a unique character, operating differently from the recording.
Sorey, who made his Festival debut in 2016, is an accomplished composer, drummer, pianist, improviser, trombonist, and more. Among his features in the upcoming Festival, we are excited about Conduction – an "improvised duet for ensemble and conductor", which was developed by Butch Morris. The ensemble responds to the conductor's signals and gestures, creating a new piece of music in real time. Conduction will be a part of the Saturday Afternoon Concert.