by Tom Morris, Artistic Director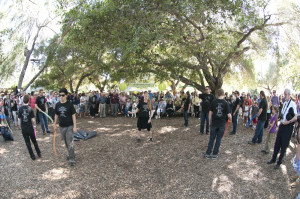 After last June's Festival with Leif Ove Andsnes, and as plans were developing for 2013 with Mark Morris, and for 2014 with Jeremy Denk, I realized that Ojai is increasingly about being a laboratory for great artists to experiment – to reinvent themselves. It is not a place where artists come to trot out the programs they do elsewhere. In many ways, the very essence of Ojai stems powerfully from the fact that artists are part of the experiment themselves so audience and performers join at the hip in the mutual experience.
All the final touches are now in place for 2013 and we will have, indeed, a seamless and continuous party of music, dance and conversation. Get your rest ahead of time! With Mark Morris as our irrepressible guide, we have a festival that will look and feel different with more than 30 distinct events over 4 days:
• We start with 8 major concerts – more than in the past as we cut some previous 2-hour concerts into 2 1-hour concerts: 1 concert Thursday night, 2 Friday night, 1 Saturday morning, 1 Saturday evening, 1 Sunday morning, and 2 Sunday evening.
• We will have 2 Ojai Talks, each with 2 sessions, on Thursday and Friday.
• We will have 7 free extra events, subject only to getting an advance reservation: 3 film screenings at the Ojai Playhouse, 1 on Thursday and 2 on Saturday; 2 Ojai Late Night concerts in the Libbey Bowl on Friday and Saturday nights; Ojai Sunrise concerts on Saturday and Sunday mornings at Meditation Mount and at Two Tree Hill on the Besant Hill School in Upper Ojai
• We will have 7 community events – free and open to the public: 2 gamelan concerts in the Libbey Park Gazebo on Friday and Saturday; a 30-minute concert of music for toy piano to be performed on the Libbey Park playground Friday between the 2 evening concerts; public fitness classes led by dancers from the MMDG Friday, Saturday and Sunday mornings in the Libbey Park; a "Dance with the MMDG" Saturday afternoon at the Ojai Arts Center where members of the MMDG will teach you a movement of Lou Harrison's Grand Duo which is being performed on Friday night
• We will have 3 special events for donors: Social Dancing with Mark Morris at the opening night party Thursday night at the Ojai Arts Center; Open-mic karaoke with Mark Morris and The Bad Plus at Agave Maria's late Friday night; a special performance by American String quartet on Sunday afternoon at the Ojai Arts Center
• The Legacy Lunch Saturday afternoon at the Lavender Inn when Chris Hailey will interview several veteran members of the MMDG
• 6 Concert Insights with Christopher Hailey, 4 of which will be with Mark Morris
• A Reception for 2014 subscribers.
• And there just might be a few other surprises!!!
This will be a festival that truly reflects what Mark Morris stands for in all of his work. It will be infused with his infectious energy, his extraordinary artistry, his supreme ability to delight, and his playful sense of fun. As he has said:
"….thrilling, raucous, serene, contemplative, serendipitous, and surprising. As Lou Harrison put it: 'music is a song & a dance.'"