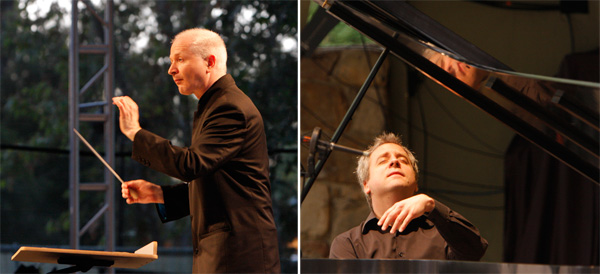 Musical America announced their 2014 award recipients today, and among them were two Ojai music directors: conductor/composer George Benjamin and pianist Jeremy Denk.
George Benjamin, music director of the 2010 Festival, was awarded Composer of the Year. Benjamin brought his opera Into the Little Hill to Ojai audiences in 2010 and Musical America highlighted his 2012 opera, Written on Skin, as "at once exquisitely wrought and devastatingly raw."  Written on Skin has received almost 40 performances internationally to date and had its US premiere in August at Tanglewood – a music stream of the performances is available from New York's WQXR Q2.
Jeremy Denk, who will serve as music director of the 2014 Festival, received the Instrumentalist of the Year award. As Musical America wrote, "His flourishing concert schedule, the second release in his Nonesuch recording contract (Bach's Goldberg Variations), his widely read blog called "Think Denk," and articles for the New Yorker, which led to a Random House book commission, attest to his multi-faceted artistry." Denk is in the process of creating an opera of his own, The Classical Style, based on Charles Rosen's work of musical analysis, which will feature music by Steven Stucky.
The Musical America awards rank among classical music's highest honors, and will be presented by the performing arts resource at its annual ceremony on December 17 at Lincoln Center.
The Ojai Music Festival congratulates both George and Benjamin on their achievements – and hopes that this will be another in a line of many for both!
Read more on the Musical America website >>