A letter from Artistic Director Tom Morris
Dear Friends:
It is hard to believe that the 2017 Ojai Music Festival is only seven weeks away.
My excitement really began to build three weeks ago at the Oberlin Conservatory of Music, which has produced so many outstanding Festival artists. The Oberlin Contemporary Music Ensemble and Oberlin graduate Jennifer Koh will make their Ojai Music Festival debuts on June 8 for the world premiere Vijay Iyer's violin concerto Trouble (the Ojai Music Festival, Cal performances in Berkeley, and the Boston Symphony at Tanglewood commissioned the work). Workshops of new pieces are a marvelous way for the composer and performers to work out any changes or modifications. We last did this with Jeremy Dank/Steven Stucky's The Classical Style in 2014. In preparation for the world premiere of Trouble, Oberlin graciously produced an intense week of workshops conducted by Tim Weiss. Vijay himself was present for most of the week, and we were treated to two workshop performances, the first in Oberlin on April 7, and later at the Cleveland Museum of Art on April 9. Both times, audiences cheered the evolving concerto. The piece is fiendishly difficult but extremely moving and powerful. Jenny Koh was masterful.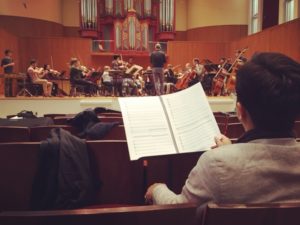 Continuing our partnership with Oberlin, nine string members of the Oberlin Contemporary Music Ensemble will join ICE in Trouble, Vijay's Emergence for Ensemble and Trio, and Courtney Bryan's Yet Unheard.
Last week, I witnessed another stunning event. When Vijay and I began planning the Festival two years ago, he said very early on that he had always wanted to work with Indian singer Aruna Sairam (who was in Ojai last year), and master tabla player Zakir Hussain. I love challenges like this so we put an event together for Sunday, June 11 at 1pm featuring these three artists plus the incredible saxophonist and longtime Iyer collaborator Rudresh Mahanthappa. Since the initial idea, Vijay worked once in Banff with Zakir and also with Aruna, but these four master musicians have never performed together – Zakir and Aruna have never collaborated. It turned out all were available for a rehearsal in New York on April 11 in a small studio on 46th Street. I was lucky to be present and witnessed music history being born. The sheer artistry and energy of these four was incredible, and watching them construct a new musical program for Ojai was thrilling. One of the astonishing things about great artists is how little they have to talk, since their shared artistry communicates on such an instinctive, natural level. The Festival concert on June 11 is not to be missed as they publically perform together for the first time. All have stated unequivocally that this will not the be the last time they work together. Based on what I witnessed, the future for this group is bright indeed.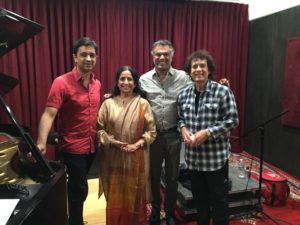 Finally, as part of our partnership, WQXR/Q2 in New York presented a public performance in The Greene Space on April 13. The space was packed, and the event was streamed live. Featured were conversations and performances by Vijay Iyer, Jennifer Koh, George Lewis, Tyshawn Sorey, and Rudresh Mahanthappa. The event was hosted by Q2's Helga Davis, who herself will be soprano soloist in Ojai this year in Courtney Bryan's Yet Unheard. The program gives a very good preview of the artistry and collaborative energy of these wonderful artists. You can view the event below:
Three weeks and counting – we are in for a great treat.
Tom Morris, Artistic Director