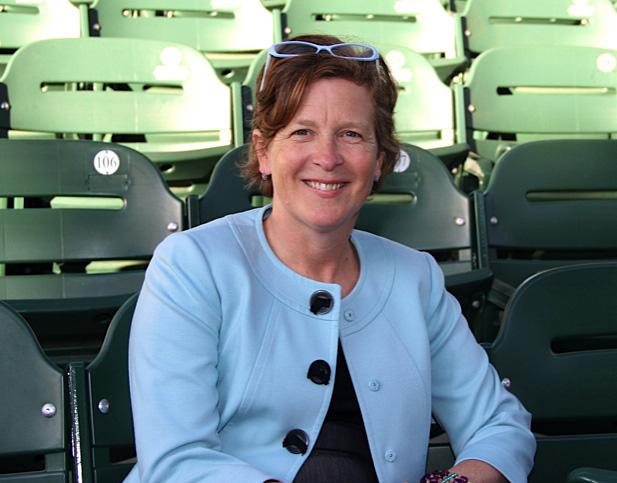 Executive Director Janneke Straub joined the Festival in January 2014. She sat down to share a bit about herself and her vision for the Festival's upcoming years.
You have an interesting background…tell us a bit about yourself:
I grew up in France, living in Nice and Paris, going to all kinds of festivals – my parents are mostly into new music and baroque music (not orchestral music and opera). They also love modern sculptures, contemporary architecture, and medieval art. They still travel to nurture these passions. In Nice, I lived next to the Matisse Museum, the arenas, and the world-class Nice Jazz Festival. During this one week festival, bands performed on three different stages and changed every hour from 5:30pm to 10:30pm. Guest artists included both the most famous and the up-and-coming like Lionel Hampton, Dizzy Gillespie, Stan Getz, and Stephane Grappelli.
And you became involved with music festivals from an early age?
While in middle and high school, my parents encouraged me to attend summer academies in the most beautiful festival settings. My favorite was the Pablo Casals Festival nestled in a small village, Prades in the Pyrenees, near the Spanish border, where cellist Pablo Casals lived during Franco's regime. Casals interrupted his international career, left his beloved country and refused to perform in protest. His musician friends and fans finally convinced him to celebrate the bicentennial of Johann Sebastian Bach with them in 1950 after 12 years of silence. That's how this chamber music festival started.
As a young student at the International Pablo Casals Academy, I would practice, and play chamber music, then get all dressed up and go to the concerts in the late afternoon and evening. Most of the concerts took place in the parish church and in the Abbey of Saint Michel de Cuixa with its pink marble cloister built in the 11th century. The three monks who lived in this reclusive sanctuary kept an eye on us (no tank tops, shorts, etc).
After I left Nice to pursue my studies at the University in Paris, I needed a summer job and the Artistic Director of the festival, Michel Lethiec, invited me back to work in production. I returned to work at the festival every August for seven consecutive years, until I moved to the United States in 1996.
What I love most about festivals is that you put your everyday life aside, and the focus is 100% on music. Beautiful settings have a major effect on us. You feel completely open and focused on the present and what you are about to experience.
What was your first job in the US?
I worked for the Los Angeles Philharmonic at a time when the organization completely re-invented itself and became a model orchestra for the 21st century.  I learned about fund development during the capital campaign [to build Walt Disney Concert Hall], the opening celebrations, and the first five  years in Disney Hall, when Esa-Pekka Salonen was Music Director. Frank Gehry's vision was to build a living room for the city. No one on staff, other than [President] Deborah Borda, had opened a new hall before. From one year to the next, the LA Philharmonic Association doubled the number of concerts that it presented from approximately 80 in 2002 to 150 in 2003.  What I experienced during those 13 years was so unique: we, the staff, had this extraordinary chance to stretch our minds and work as a team to make this transformation happen.
What was your next big career move?
In October 2008, I left the LA Philharmonic to become the Executive Director of the American Youth Symphony, which is a training ground for exceptionally talented college level musicians. Access to this 105-member orchestra is based on merit only. There is no tuition, no fees to audition; only vibrant music making. The challenge was to turn this traditional orchestra into the powerful and trend-setting organization that it is today.
And now you're in Ojai at the Festival! What are you most excited about?
I am excited to work with Artistic Director Tom Morris. We share this desire to reinvent the Festival, and ourselves, every year – a love of exploration and new ground. Our work is about creating a stimulating environment for the audience and for world-class artists. It's about engaging a community into the process of creation.
I'd like to work closely with the Ojai community to make sure the work we do impacts the community in a stronger way. In my mind, this Festival is flourishing because it is rooted here, in a beautiful community and a spectacular natural setting.
I'd like every aspect of the Festival to be cutting-edge; the experiences you gather in Ojai are exceptional, ear-opening, inspiring, and fun. I'd like our guests to feel the way you feel when you visit an exhibition and discover something new and completely unexpected that opens the door to a new world to explore.
Did you ever think that you'd be running your own Festival?
When I was about 22 years old, I had a dream and thought: "Wouldn't it be nice if I ran my own festival, one-day?" And here I am!
You can contact Janneke at 805 646 2094 or [email protected] .