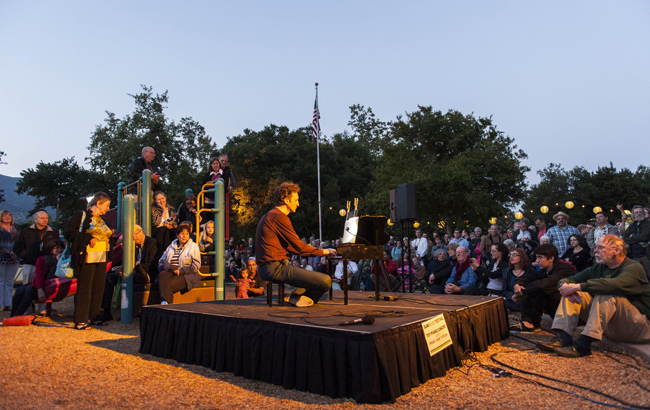 The Ojai Music Festival's BRAVO Education and Community Programs are committed to fostering the next generation of musicians and artists. Through its student music education workshops, internship opportunities, symposia sessions, and community performances, the Festival is passionate about providing music education to all ages.
BRAVO MUSIC EDUCATION PROGRAM
The Festival's award-winning BRAVO program provides free music education workshops to all Ojai Valley public school students, as well as members of the wider Ojai community.
Read more about BRAVO >> 
ARTS MANAGEMENT INTERNSHIP PROGRAM
The Festival's internship programs offers college and graduate students hands-on experience in the world of music production, business and non-profit administration.
Read more about the Internship Program >> 
OJAI FESTIVAL TALKS
Each year's Festival includes three symposia sessions with selected Festival artists in conversation with Ara Guzelimian, Dean of The Julliard School.
COMMUNITY PERFORMANCES
Free Festival concerts and performances are offered each June. Check the Festival schedule for a full listing.
Special thanks to our supporters including the Ojai Festivals Women's Committee, the Nesbitt Foundation, the City of Ojai Arts Commission, and the National Endowment for the Arts.