BRAVO Education and Community Program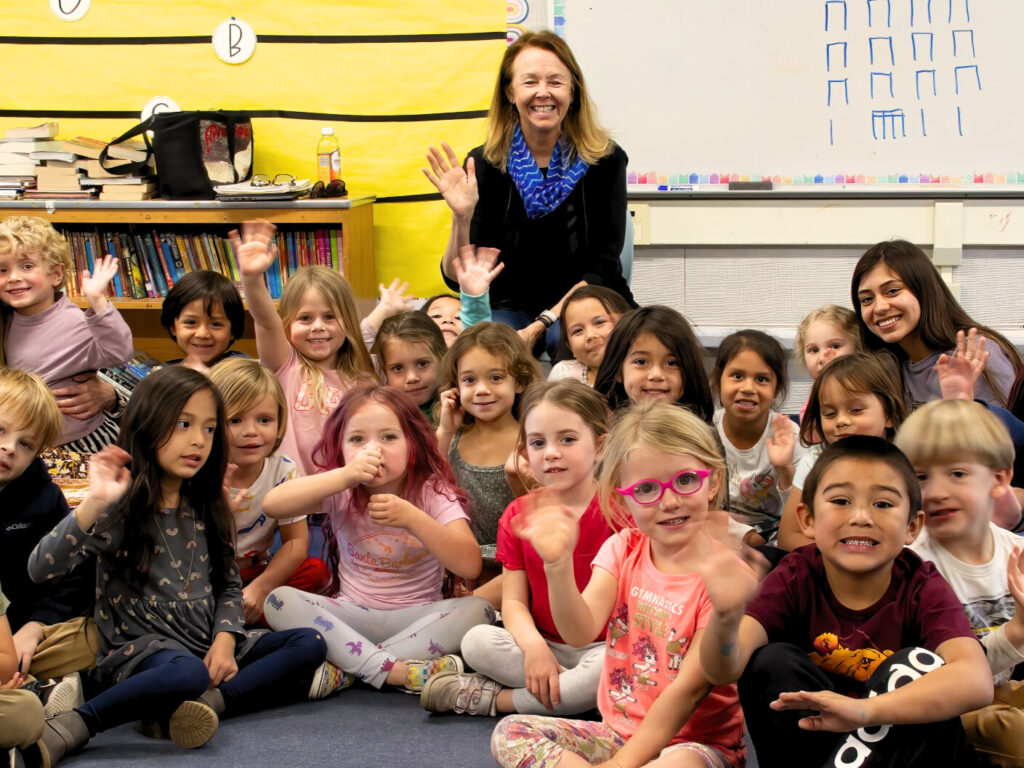 BRAVO In Schools
For over 30 years, the BRAVO program has been leading children in the Ojai Valley on a journey of music education, serving more than 8 schools and thousands of students on an annual basis.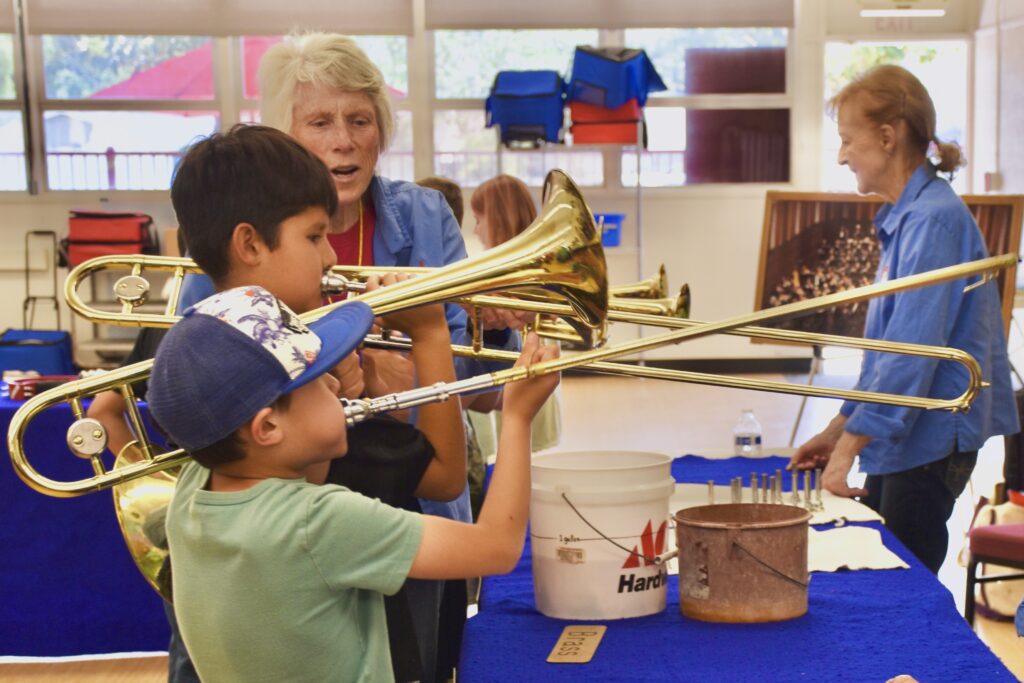 The BRAVO program believes in the practice of kindness, acceptance, and integrity through music. We create and connect to bring each other joy. The sublime activity of making music together creates an altered sense of time. It is an experience worth doing for itself. These are the characteristics of play state, where flow and creativity flourish.
Through Education Through Music, students engage in creative problem-solving, develop teamwork skills, and discover how music relates to their core curriculum, especially language arts, history, geography, and math. During the Music Van, students get the chance to try an instrument they would never have had access to otherwise. At the Imagine Concert, students attend a high-quality concert of music from a culture vastly different from their own. Continue reading to see more ways in which BRAVO does the essential work of bringing music to Ojai's youth.
---
Education Through Music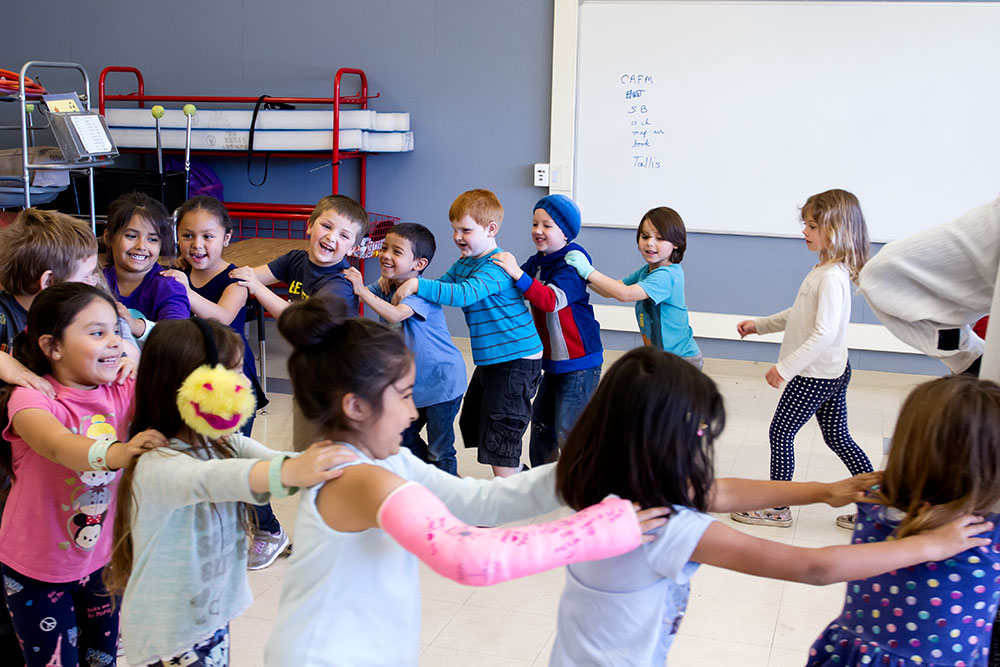 At the core of the BRAVO program are weekly Education Through Music (ETM) classes for every Transitional Kindergartner through Second Grader, including children with special needs. These weekly music sessions improve students' pattern recognition, social skills, and teamwork abilities. ETM is offered to every TK-2 (ages 4-8) student in the Ojai School District. BRAVO is the only music program in the schools for these ages.
Diversity is a focus of our ETM program, and we sing songs from many traditions. The song Bombalalom comes from the deep south of Brazil and means "our place of peace". Sharing our peaceful place builds attachment to our community, because it is something very personal about us, and we want to be known. The beauty of this song when sung in a round, or with other partner songs or its descant, helps us to appreciate each other.
If one person gets two turns during a song, this is their best and luckiest day! It is the enactment of life and the antidote for entitlement. Not everyone gets a turn, and this is one of our most authentic life lessons. The children adjust quickly and learn how to be happy and cheer when their classmates are chosen. It creates a community of learners, ready to support each other.
When true play is present, failure is a gift. We adjust and balance. We learn to enjoy even that. Play is one of the greatest equalizers we have in society. When we play together, we are equal participants; no child or adult has any advantage over any other. People who have play experiences together are much less likely to lash out at their peers but rather work to come to a resolution. Music features many opportunities for partnership and collaboration, as we get to practice listening to all ideas and negotiating solutions.
Our work with children helps us become aware of those around us, and how our actions are affecting them. This is gained by play, mutual experiences of sharing space and sound, and taking turns. In music, we are not doing our work alone. We cooperate to create beauty. BRAVO brings wonder and marvel to new generations all year long.
---
Music Van
BRAVO's Music Van brings instruments from all orchestral families to third through fifth-grade classrooms throughout Ojai and two Ventura schools. Every student who attends Music Van gets the chance to hear and learn about orchestral instruments. Incredibly, they also each have a turn playing every instrument through gentle and explorative instruction. Staffed by dedicated Festival volunteers and Women's Committee members, the Music Van allows younger students to explore various instruments before signing up for the district band and string program.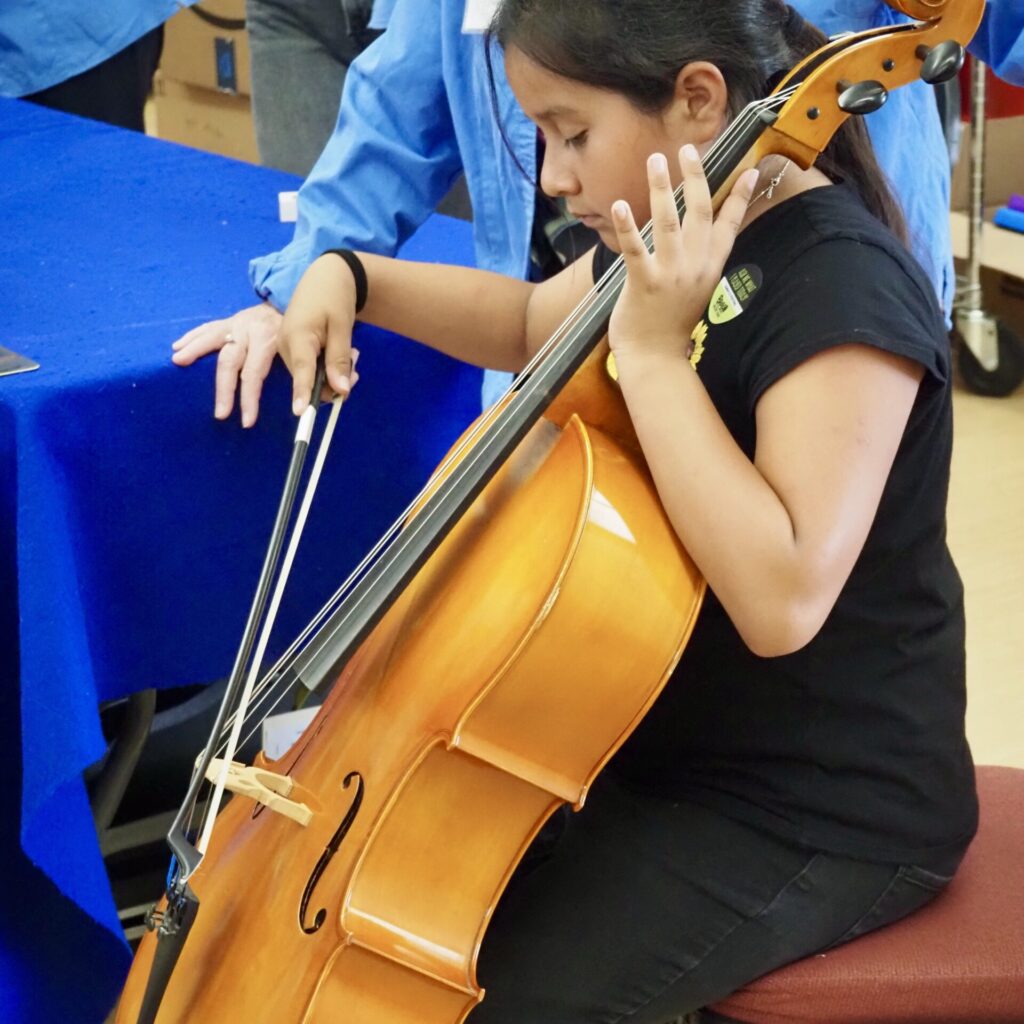 ---
Imagine Concert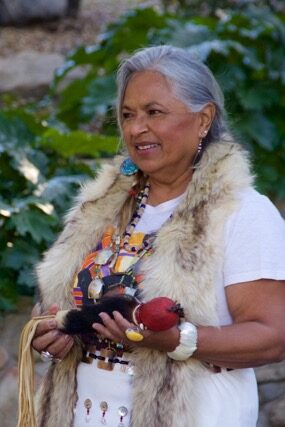 Every Spring, the Imagine Concert introduces students in the Ojai Valley ages 9-12 to professional musicians, through music from many genres and parts of the world. Students are given the opportunity to immerse in the concert experience at Libbey Bowl. Imagine Concert audiences are usually upwards of 800 students.
Thanks to our partnership with the Ojai Valley School and the Barbara Barnard Smith World Music Fund, students have heard classical clarinet, bluegrass fiddle, storytelling with percussion, music from India and the Middle East, Ojai O'Daiko Drumming, Music of the Chumash Culture, and Latin Jazz flute.
BRAVO also presents a free community performance in conjunction with the annual Imagine Concert, which is well-attended by families and friends of the Festival.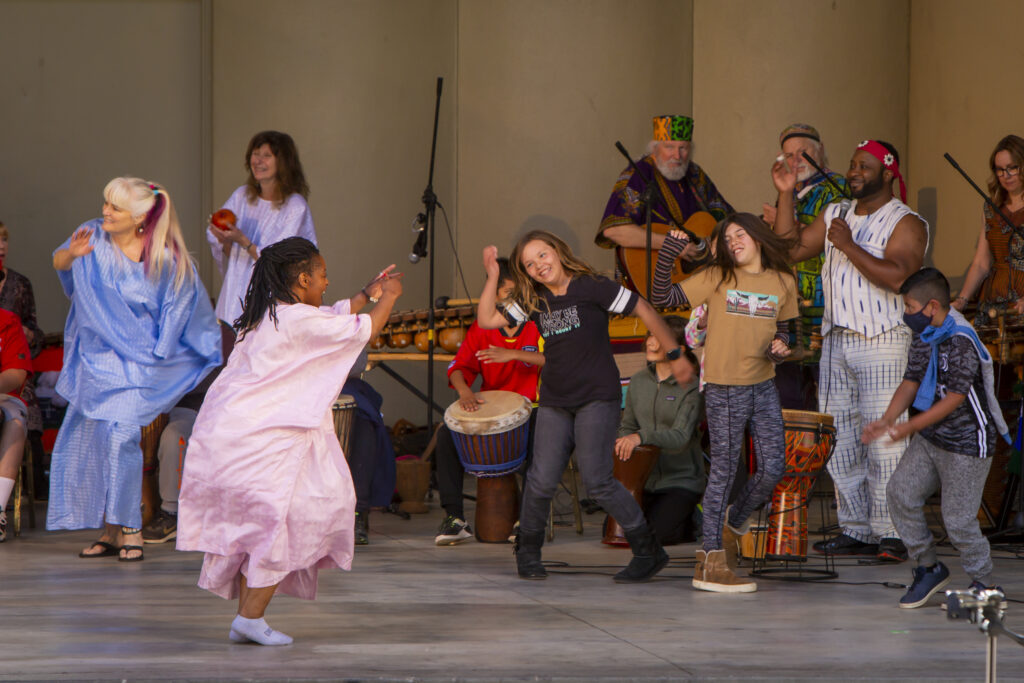 Artists in Residence
Professional musicians work directly with Ojai public school students in 4th and 5th grades by having small group interactions with artists. Musicians include Dave Cipriani – guitar and music from India, Cameron Schubert – cello and songwriting, Kathleen Robertson – violin, Shelley Burgon- harp, Julie Tumamait – Chumash music, and Rosanne Forgette – drumming. Artists will share the journeys of their musical life, play for the children, and invite critical thinking and exploration of sound and emotions. We believe the students will be excited to attend concerts, to have music be part of their lives, and to participate in the artistic community. Having these close encounters will inspire students to further their own interests in music. Music and the arts can bring us deep joy, which leads to intelligence and cultural engagement in society. This program is funded by the Ojai Women's Fund.
---
Bridge Programs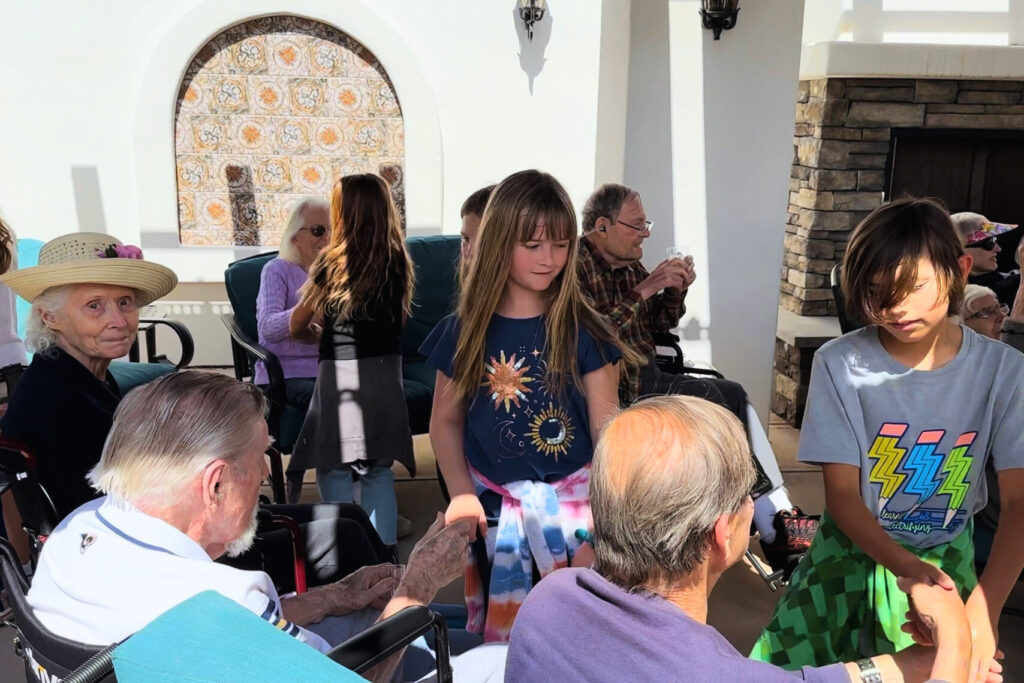 Third-grade classes visit with seniors at The Gables Senior Living and The Artesian. The children volunteer eagerly to choose a senior to be their partner. They play Rig-a-Jig with skipping, Kitty Casket with spinning, and Roll Little Liza with finding ways to roll. They also sing a Thomas Tallis canon from the 16th century.
The children include any seniors who are happy to get up and join, or sometimes they just hold their hand. They ask the residents to share their wisdom. Singing the Love Canon, they look into each other's faces and acknowledge the love and care that is in the room. The intergenerational experience brings deepened relationships for all ages.
---
BRAVO In The Community
BRAVO's Upbeat program brings joyful music to an additional segment of the Ojai community, at the Continuing Care Center, The Gables Senior Living, The Artesian Senior Living, and the Arc Ojai Enrichment Center. Storyteller Joann Yabrof brings delightful stories and song to residents. Speech Pathologist Kathy Broesamle sings and moves with clients. Cameron Schubert plays classical and Celtic cello and performs several of his original compositions. Julie Tumamait reaches out to the elders in the spirit of Chumash traditional songs and dances. These experiences provide the opportunity to take part in collaborative music-making and musical expression.
Additional community outreach includes:
Free and family-focused events and lectures during Festival weekend
Free, pop-up performances during the Festival
Discounted tickets for students and faculty (visit our FAQ to learn more)
Festival preview events for the public of Ojai
Music Van demonstrations at community programs like Ojai Day and at the Ojai Valley Museum
---
Support BRAVO
The Festival's BRAVO Education & Community Program is made possible by many generous donors and welcomes your support.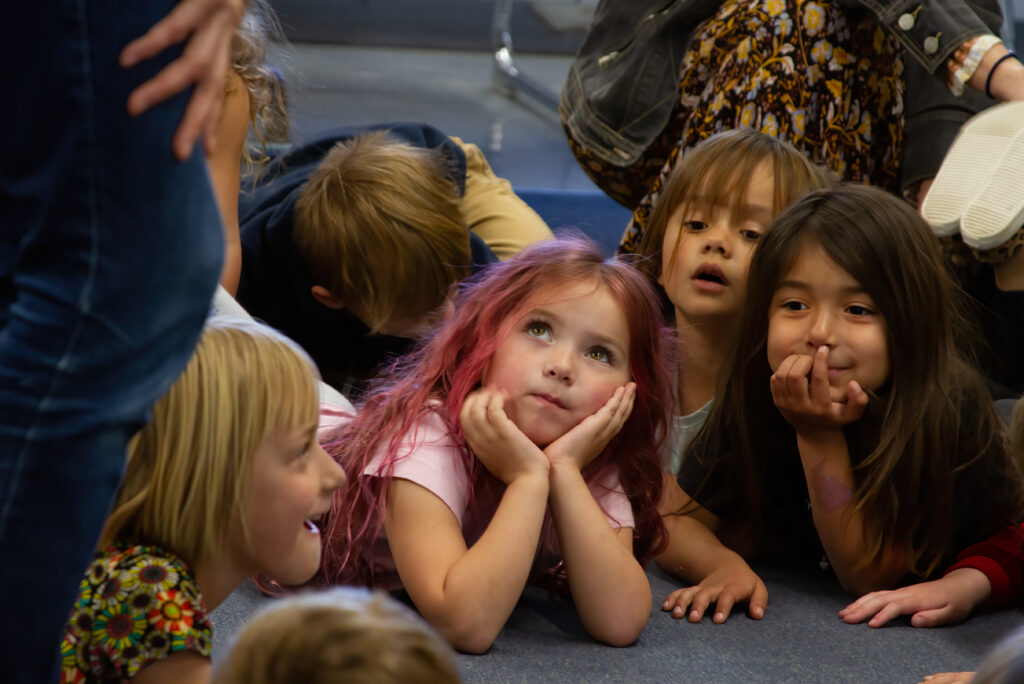 Special thanks to the Ojai Festival Women's Committee for their ongoing support of BRAVO.
The BRAVO program acknowledges the Ojai Women's Fund for support during our FY2023 year to bring Artists in Residency programs to Ojai Valley public school students