2020 Music Director, Matthias Pintscher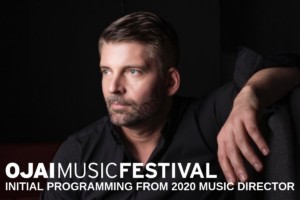 "It is a tremendous pleasure and incredible honor to be music director for the 2020 Ojai Festival, something I have dreamed about since moving to New York twelve years ago. I feel a combination of joy and responsibility to showcase composers and works that create something like an INVISIBLE BRIDGE between the two continents in which I am living and working: Europe and the USA. I have realized that my role as musical communicator – as composer, conductor, educator, and festival di- rector – is to actively strengthen the interactions and connections between the music of today and its heritage in the US and on the "old continent". As a European living in New York and Paris, I want to explore this INVISIBLE BRIDGE as one of the key elements for my programming of the 2020 Ojai Festival: thoughtful, innovative, loving, provocative, and poetic. Music speaks most directly from hu- man to human, and Ojai is a perfect place to showcase this. I am excited. See you in 2020." – Matthias Pintscher, 2020 Music Director
Matthias Pintscher is the Music Director of the Ensemble Intercontemporain, the world's leading contemporary music ensemble founded by Pierre Boulez. In addition to a robust concert season in Paris, he toured extensively with them throughout Europe, Asia, and the United States this season including concerts in Berlin, Brussels, Russia, and the United States. Known equally as one of to-day's foremost composers, Mr. Pintscher will conduct the premiere of his new work for baritone, chorus, and orchestra, performed by Georg Nigl and the Chorus and Symphonieorchester des Bayer- ischen Rundfunks at their Musica Viva festival in February 2020.
In the 2019/20 season, Mr. Pintscher makes debuts with the symphony orchestras of Montreal, Baltimore, Houston, Pittsburgh, and with the Detroit Symphony Orchestra at Interlochen. He also makes his debut at the Vienna State Opera conducting the premiere of Olga Neuwirth's new opera Orlando, and returns to the Staatsoper Unter den Linden in Berlin to conduct performances of Beat Furrer's Violetter Schnee, which he premiered in January 2019. Re-invitations this season include the Cleveland Orchestra, Orchestre de la Suisse Romande, and Chamber Orchestra of Europe. In summer 2020, Mr. Pintscher will serve as Music Director of the 74th Ojai Music Festival.
Highlights of Mr. Pintscher's 2018/19 season included serving as the Season Creative Chair for the Tonhalle-Orchester Zürich, as Artist-in-Residence at the Los Angeles Chamber Orchestra, and con- cluding a nine-year term as the BBC Scottish Symphony Orchestra's Artist-in-Association. Last season, Mr. Pintscher made his debuts with the Saint Louis Symphony Orchestra, Rotterdam Philharmonic, and the Staatsoper Berlin, and returned to the symphony orchestras of Chicago, Cincinnati, Cleveland, Indianapolis, Milwaukee, the New York Philharmonic, the New World Symphony in Miami, and the Music Academy of the West. In Europe, he conducted the Scottish Chamber Orchestra at the Edinburgh International Festival and returned to the Orchestre de Paris, Danish National Symphony Orchestra, and Helsinki Philharmonic. Mr. Pintscher also conducted the premiere of his work Nur, a new concerto for piano and ensemble, performed by Daniel Barenboim and the Boulez Ensemble in January 2018. An enthusiastic supporter of and mentor to students and young musicians, Mr. Pintscher served as Principal Conductor of the Lucerne Festival Academy Orchestra from 2016- 2018 and worked with the Karajan Academy of the Berlin Philharmonic in their 2017/18 season, culminating in a concert at the Philharmonie.
Matthias Pintscher began his musical training in conducting, studying with Pierre Boulez and Peter Eötvös in his early twenties, during which time composing took a more prominent role in his life. He rapidly gained critical acclaim in both areas of activity, and continues to compose in addition to his conducting career. As a composer, Mr. Pintscher's music is championed by some of today's finest performing artists, orchestras, and conductors. His works have been performed by the Boston Symphony Orchestra, Chicago Symphony, Cleveland Orchestra, New York Philharmonic, Philadelphia Orchestra, Berlin Philharmonic, London Symphony Orchestra, Royal Concertgebouw Orchestra, and the Orchestre de Paris, among many others. Bärenreiter is his exclusive publisher, and recordings of his compositions can be found on Kairos, EMI, Teldec, Wergo, and Winter & Winter. Mr. Pintscher has been on the composition faculty of The Juilliard School since 2014.