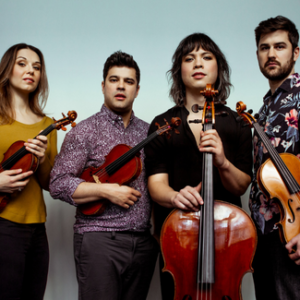 Amy Schroeder, violin
Domenic Salerni, violin
Nathan Schram, viola
Andrew Yee, cello
Grammy Award–winning Attacca Quartet "lives in the present aesthetically, without rejecting the virtues of the musical past" (The Nation) and this dexterity to glide from the music of the 18th through to the 21st century repertoire places them as one of the most versatile and outstanding ensembles of the moment — a quartet for modern times.
Touring extensively in the United States, recent and upcoming highlights include Carnegie Hall Neighborhood Concerts; New York Philharmonic's Nightcap series; Lincoln Center's White Lights Festival and Miller Theatre, both with Caroline Shaw; Phillips Collection; Chamber Music Austin; Isabella Stewart Gardner Museum in Boston; and Trinity Church at Wall Street, where they will perform the complete cycle of the Beethoven String Quartets.
Attacca Quartet has also served as Juilliard's Graduate Resident String Quartet, Quartet in Residence at the Metropolitan Museum of Art, and Ensemble-in-Residence at the School of Music at Texas State University. Outside of the U.S., recent performances include Gothenburg Konserthuset, MITO Septembre Festival in Italy, and their debut in London at Kings Place and in Oslo at the Vertravo Haydn Festival. Following on a recent tour in Central and South America, they will return to Europe for 10 concerts around Sweden as well as taking part in the Prague String Festival and September Me Festival in the Netherlands.
Passionate advocates of contemporary repertoire, their latest recording, Orange, features string quartet works by Pulitzer-winning composer Caroline Shaw. Greatly received by the critics, Attacca Quartet won the 2020 Grammy in the category ​Best Chamber Music/​Small Ensemble Performance for this album. Previous recordings include three critically acclaimed albums with Azica Records, including a disc of Michael Ippolito's string quartets and the complete works for string quartet by John Adams.