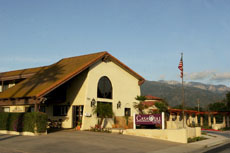 1302 E Ojai Ave
Phone: 805-646-8175
Website: www.ojaiinn.com
Named the "Best Green Hotel In Ojai," Casa Ojai's recently renovated rooms feature a host of eco-friendly improvements and amenities. Conveniently located just under a mile from downtown and just across from the picturesque Soule Park Golf Course, Casa Ojai also offers bike rentals, a saltwater pool, and discounts for the nearby Ojai Day Spa.
While it is possible to walk from the hotel to Libbey Bowl, those walking at night are advised to carry a flashlight and that there is a brief section of unpaved footpath. For the best prices for your stay, call the hotel directly at 805 646 8175.