Chinary Ung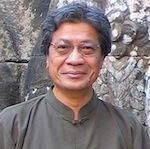 Chinary Ung was the first American composer to win the highly coveted and international Grawemeyer Award (1989), sometimes called the Nobel prize for music composition. Among other honors, Ung has received awards from The Kennedy Center (Friedheim award), The American Academy of Arts and Letters, Asia Foundation, Asian Cultural Council, Rockefeller Foundation, Ford Foundation, Guggenheim Foundation, Joyce Foundation, and The National Endowment for the Arts.
His SPIRAL XII: "Space Between Heaven and Earth" was premiered by The Los Angeles Master Chorale at Walt Disney Concert Hall in November, 2008. Ung has been a featured composer/master composer at prominent festivals/conferences, including: Asia Society, The World Music Institute's Interpretations Series- Four Generations of Asian Composers; 2007 Asian Composers League in Seoul, Korea: The 3Oth ACL Forum in Seoul, Korea; 2008 AURORA Festival, Sidney, Australia; Panel/Concert at The Library of Congress; Thailand International Composition Festival at Burapha University, Thailand; and in 2009, Other Minds: OM 14 Festival, San Francisco.
Chinary Ung has received many commissions including those from the Philadelphia Orchestra, Meet the Composer, Koussevitzky Foundation, Saint Paul Chamber Orchestra, and La Jolla Summerfest and Santa Fe Summer Music Festivals. Ung's music is published by C. F. Peters Corporation and is a member of Broadcast Music Incorporated.
In August 2010, Mr. Ung's new chamber piece for Real Quiet will premiere at the Santa Fe and Summerfest La Jolla festivals. Afer that, he will go to work on two more new commissions: a chamber work for Zeitgeist funded by Meet the Composer and Chamber Music America, and a viola concerto for S.M.E. Ensemble funded by Jebediah Foundation New Music Commission.
His music is recorded on New World Records, Bridge Records, Cambria, London Records, Other Minds, Oodiscs, Nami Records, Kojima Records, Albany Records, Norton Recordings, Composers Recording Incorporated, Folkways Records, and Koch International.