Gabriela Lena Frank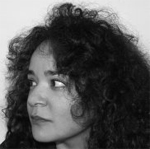 Identity has always been at the center of Gabriela Lena Frank's music. Born in Berkeley, California, to a mother of mixed Peruvian/Chinese ancestry and a father of Lithuanian/Jewish descent, Frank explores her multicultural heritage most ardently through her compositions. Inspired by the works of Bela Bartók and Alberto Ginastera, Frank is something of a musical anthropologist. She has traveled extensively throughout South America and her pieces reflect and refract her studies of Latin American folklore, incorporating poetry, mythology, and native musical styles into a western classical framework that is uniquely her own. She writes challenging idiomatic parts for solo instrumentalists, vocalists, chamber ensembles, and orchestras.
Moreover, she writes, "There's usually a story line behind my music; a scenario or character." While the enjoyment of her works can be obtained solely from her music, the composer's program notes enhance the listener's experience, for they describe how a piano part mimics a marimba or pan-pipes, or how a movement is based on a particular type of folk song, where the singer is mockingly crying. Even a brief glance at her titles evokes specific imagery: Leyendas: An Andean Walkabout; Cuatro Canciones Andinas; and La Llorona: Tone Poem for Viola and Orchestra. Frank's compositions also reflect her virtuosity as a pianist — when not composing, she is a sought-after performer, specializing in contemporary repertoire.
This season, Frank serves a composer-in-residence to both the Houston Symphony for who she wrote Karnavalingo to welcome incoming music director Andrés Orozco-Estrada and the Detroit Symphony Orchestra. A 2009 recipient of the prestigious John Simon Guggenheim Memorial Foundation Fellowship to assist in research and artistic creation, Frank's recent premieres include Will-o'-the-Wisp for piccolo player Mary Kay Fink and the Cleveland Orchestra; Saints for The Berkeley Symphony, soprano Jessica Rivera and the San Francisco Girls Chorus; and Concertino Cusqueño for the Philadelphia Orchestra. A frequent collaborator with artists in other disciplines, Frank has developed a number of projects with the Pulitzer Prize-winning Cuban playwright Nilo Cruz, among them La Centinela y la Paloma (The Keeper and the Dove), a song cycle for Dawn Upshaw and the Saint Paul Chamber Orchestra and Journey of the Shadow for the San Francisco Chamber Orchestra. Other recent premieres include Nocturno Nazqueño for the New York International Piano Competition; Hilos for the Alias Chamber Ensemble; Puntos Suspensivos for Ballet Hispanico; Inca Dances for guitarist Manuel Barrueco and Cuarteto Latinoamericano — which received a 2009 Latin Grammy for Best Classical Contemporary Composition; New Andean Songs for the Los Angeles Philharmonic's Green Umbrella new music series; Peregrinos for the Indianapolis Symphony; and Two Mountain Songs for a consortium comprised of the Young People's Chorus of New York, the San Francisco Girls Chorus, and Anima.
Having collaborated with a broad range of artists, Frank's other works include Quijotadas for the Brentano String Quartet; Jalapeño Blues for Chanticleer, based on the Spanglish poetry of renowned Chicano poet Trinidad Sánchez; Compadrazgo, a double concerto for David Finckel and Wu Han with the ProMusica Orchestra; La Llorona: Tone Poem for Viola and Orchestra for the Houston Symphony with principal Wayne Brooks under the baton of Hans Graf; Dos Canciones de Cifar for baritone and piano, commissioned by the Marilyn Horne Foundation with Carnegie Hall; ¡Chayraq! and Ritmos Anchinos for the Silk Road Project; Cinco Danzas de Chambi for viola and piano, commissioned by the Aspen Summer Music Festival; Canto de Harawi for the Da Camera Society of Houston; Manchay Tiempo for the Seattle Symphony under the baton of Jun Märkl; Inkarrí for the Kronos Quartet; Illapa: Tone Poem for Flute and Orchestra for flutist Leone Buyse and the Shepherd Symphony Orchestra; and Three Latin-American Dances for the Utah Symphony Orchestra under the baton of Keith Lockhart.
Three Latin-American Dances was subsequently recorded by the Utah Symphony for the Reference Recording label and has been hailed as "dazzling" and exhibiting "wit, brilliance, atmosphere, and poetry" (Classics Today), and "a rare treasure of modern orchestral music" (Hong Kong/China Hi Fi Review). Leyendas: An Andean Walkabout, performed by its commissioner, the Chiara String Quartet, was released in early 2007 on the New Voice Singles label. In reference to this recording, the American Record Guide called Frank "a remarkable composer." Recent recordings include an all-Frank disc on Naxos featuring Hilos, among other works, by the Alias Chamber Ensemble; Inca Dances with guitarist Manuel Barrueco and the Cuarteto Latinoamericano, released on the Tonar Music Label; and several chamber/orchestral works for the Filarmonika label as part of the groundbreaking "Caminos del Inka" project under the directorship of conductor Miguel Harth-Bedoya.
Frank attended Rice University in Houston, Texas, where she earned both a B.A. (1994) and M.A. (1996). She studied composition with Paul Cooper, Ellsworth Milburn, and Sam Jones, and piano with Jeanne Kierman Fischer. Frank credits Fischer with introducing her to the music of Ginastera, Bartók, and other composers who utilized folk elements in their work. At the University of Michigan, where she received a D.M.A. in composition in 2001, Frank studied with William Albright, William Bolcom, Leslie Bassett, and Michael Daugherty, and piano with Logan Skelton.
Gabriela Lena Frank's music is published exclusively by G. Schirmer, Inc.