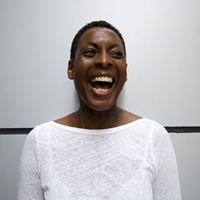 Helga Davis served as a principle actor in the 25th-anniversary international revival of Robert Wilson and Philip Glass's seminal opera Einstein on the Beach. Her appearance in You Us We All by Shara Nova (My Brightest Diamond) and Andrew Ondrejcak marked her fifth at the Brooklyn Academy of Music's Next Wave Festival.
Among the many works written for her are Faust's Box, written and directed by acclaimed Italian contemporary music composer Andrea Liberovici; Oceanic Verses by Paola Prestini, with libretto by Donna DiNovelli and video by Ali Houssani; Elsewhere by Missy Mazzoplli and Maya Beiser; and The Blue Planet, a multi-media theater piece written by Peter Greenaway and directed by Saskia Boddeke. She was also the co-star of The Temptation of St. Anthony directed by Robert Wilson, with libretto and score by Bernice Johnson Reagon of Sweet Honey in the Rock.
Recently, Davis performed Yet Unheard by Courtney Bryan at Cooper Union, a work based on the poem by Sharan Strange and performed on the first anniversary of Bland's death. Her work First Responder was conceived and performed at MassMoCA this fall after an invitation to respond to Nick Cave's Until.
In 2008, Helga joined New York Public Radio to host overnight music and won an ASCAP Multimedia Award for her work on WNYC's 24:33 – an all-day festival of composer John Cage's recorded music, interviews and live performances. In 2009, she transitioned to Q2 Music, and has been the channel's primary host for live concerts and interviews in The Greene Space at WQXR. In addition, she has hosted live shows and conducted conversations with Pulitzer Prize-winning composers including John Luther Adams, David Lang, and Julia Wolfe, as well as with Cornel West, Kronos Quartet, and the 2015-2016 artists-in-residence at the Studio Museum in Harlem, and served as a repeat commentator for WNYC's Battle of the Boroughs.
Davis begins 2017 with long-time collaborator Daniel Alexander Jones on a new piece for his alter ego, Jomama Jones at the Black Light Festival in Minneapolis, as well as perform in a new work, Texts and Beheadings, with Yale School of Drama professor Karin Coonrod. She is also working on her second production with Bernice Johnson Reagon and Toshi Reagon, The Parable of the Sower, based on the novel by Octavia E. Butler.
Among her many accolades, David Keenan, of Wire Magazine, describes Ms. Davis as "a powerful vocalist with an almost operatic range and all the bruised sensuality of Jeanne Lee," while Robert Wilson writes "Helga Davis is a beautiful, natural performer with an inner power and strength that is truly unique. She combines voice and movement in a united whole that is spellbinding. Her genius in her stillness and quietness evoke a very deep emotion. She is radiant in every way." (bio from WQXR)