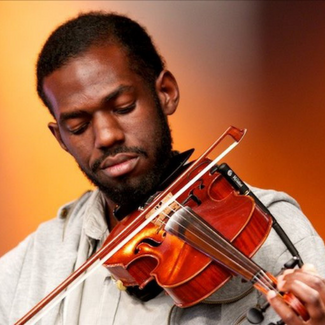 Justin Robinson is a Grammy-winning musician and vocalist, cultural preservationist, and historic foodways expert. Robinson has used his wide range of interests and talents to preserve North Carolina's African American history and culture, connecting people to the past and to the world around them.
Robinson grew up in Gastonia, NC. Influenced by the musical tastes of his grandparents, he grew to love a diversity of musical styles. He played with the Carolina Chocolate Drops, thereby working to preserve traditional forms of music, to introduce new generations to musical legends like Joe Thompson, and to remind audiences that the fiddle was, historically, an African American instrument. He wrote the song Kissin' and Cussin' for the group's Grammy-winning album, Genuine Negro Jig, and continued to write music after leaving the group in 2011, releasing the album Bones for Tinder as Justin Robinson and the Mary Annettes in 2012.
In addition to preserving African American musical traditions, Robinson is known for his work as a culinary historian. He explores the ways that foods of the African diaspora shaped and influenced Southern foodways, and reveals how foods like rice, black-eyed peas, and okra can be traced directly to the African continent. Robinson is also committed to helping African Americans rekindle their ties to the land. He is a founding member of the Earthseed Land Cooperative, a collective in northern Durham "made up of farmers, entrepreneurs, professionals, and teachers who are currently engaged in creating alternative models for sustainability, equity, and cooperation within communities of color."
Justin Robinson holds a BA in Linguistics from UNC-Chapel Hill and an MS in Forestry and Environmental Science from NC State University. He is a member of the Conservation Trust for North Carolina Board of Directors.