Mark Morris Dance Group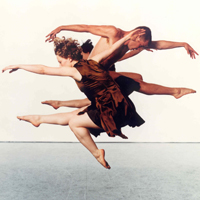 The MARK MORRIS DANCE GROUP was formed in 1980 and gave its first concert that year in New York City. The company's touring schedule steadily expanded to include cities in the U.S. and around the world, and in 1986 it made its first national television program for the PBS series Dance in America. In 1988, MMDG was invited to become the national dance company of Belgium, and spent three years in residence at the Théâtre Royal de la Monnaie in Brussels. The company returned to the United States in 1991 as one of the world's leading dance companies, performing across the U.S. and at major international festivals.
Based in Brooklyn, NY, the company has maintained and strengthened its ties to several cities around the world, most notably its West Coast home, Cal Performances in Berkeley, CA, and its Midwest home, the Krannert Center for the Performing Arts at the University of Illinois at Urbana-Champaign. MMDG also appears regularly in New York, NY; Boston, MA; Fairfax, VA; and Seattle, WA. MMDG made its debut at the Mostly Mozart Festival in 2002 and at the Tanglewood Music Festival in 2003 and has since been invited to both festivals annually. From the company's many London seasons, it has garnered two Laurence Olivier Awards.
MMDG is noted for its commitment to live music, a feature of every performance on its international touring schedule since 1996. MMDG collaborates with leading orchestras, opera companies, and musicians including cellist Yo-Yo Ma in the Emmy Award-winning film Falling Down Stairs (1997); percussionist and composer Zakir Hussain, Mr. Ma and jazz pianist Ethan Iverson in Kolam (2002); The Bad Plus in Violet Cavern (2004); pianists Emanuel Ax, Garrick Ohlsson, and Yoko Nozaki in Mozart Dances (2006); and with the English National Opera in Four Saints in Three Acts (2000) and King Arthur (2006), among others. MMDG's film and television projects also include Dido and Aeneas, The Hard Nut, two documentaries for the U.K.'s South Bank Show, and PBS' Live From Lincoln Center. In September of 2001, the Mark Morris Dance Center opened in Brooklyn, NY, to provide a home for the company, rehearsal space for the dance community, outreach programs for local children and seniors, and a school offering dance classes to students of all ages.