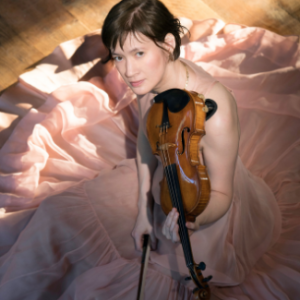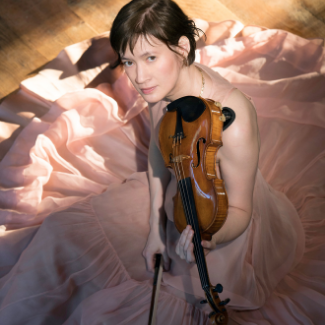 American violinist and violist Miranda Cuckson delights audiences with her expressive playing of a large range of music, from the newest creations to music of older eras. She has in recent years become one of the most acclaimed and dedicated champions of contemporary music, moving new music more into the center of classical music life. She is passionate about the creative and communicative role of the performer/interpreter in the artistic process. Downbeat magazine said "violinist Miranda Cuckson reaffirms her standing as one of the most sensitive and electric interpreters of new music." Her recording of Luigi Nono's "La lontananza nostalgica utopica futura" for violin and electronics with Christopher Burns (Urlicht AV) was named a Best Recording of 2012 by the New York Times.
Over the past year, she premiered a new violin concerto written for her by the Austrian composer Georg Friedrich Haas, with its co-commissioning orchestras: the Suntory Festival and Tokyo Symphony with Ilan Volkov, the Staatsorchester Stuttgart with Sylvain Cambreling, and the Orchestra of Casa da Música in Porto with Baldur Brönnimann. She also gave the world premiere of Mexican composer Marcela Rodriguez's Violin Concerto with the National Symphony Orchestra of Mexico and Sylvain Gasançon, and the New York premiere of the Violin Concerto by Michael Hersch with Ensemble Échappé and Jeffrey Milarsky.
Miranda made her Carnegie Hall (Stern Auditorium) debut in Walter Piston's concerto with the American Symphony Orchestra. She appears in concert halls large and small, schools and universities, and informal spaces. Venues have included the Berlin Philharmonie, Teatro Colón, Suntory Hall, Library of Congress, Miller Theatre, Guggenheim Museum, Art Institute of Chicago, Strathmore, Institute for Advanced Study at Princeton University, St. Paul Chamber Orchestra's Liquid Music, and the Marlboro, Bard, Lincoln Center, West Cork, Bridgehampton, Portland, Music Mountain, Sinus Ton and Bodensee festivals.
Her ongoing engagement with older music includes all of the violin's concerto and sonata repertoire and solo works of JS Bach. She has performed the complete cycle of Beethoven Sonatas with pianist Thomas Bagwell. Miranda also plays a large number and variety of contemporary works. Composers who have recently written for her include Georg Friedrich Haas, Michael Hersch, Jason Eckardt, George Lewis, Lu Wang, Jeffrey Mumford, Steve Lehman, Harold Meltzer (Library of Congress commission), Ileana Perez Velasquez, Douglas Boyce, Reiko Füting, and Aida Shirazi. She has collaborated in concert with composer-performers Michael Hersch, Huang Ruo, Vijay Iyer, Nina C. Young, and Philip Glass. She frequently works both with emerging young composers and with a slew of celebrated composers from around the world, including Dutilleux, Carter, Adès, Sciarrino, Boulez, Hyla, Mackey, Crumb, Lachenmann, Saariaho, Davidovsky, Hurel, Ran, Bermel, Wyner, Murail, Wuorinen, Currier, Harbison, and Rzewski. A champion of Ralph Shapey's music, she curated and played in concerts of his works at Miller Theatre and the University of Chicago's Contempo series.
Prolific in the recording studio, she has released ten lauded albums. Her most recent album – solo music by Wolpe, Carter and Ferneyhough (Urlicht AV) – has been praised by Brian Ferneyhough and added to her varied discography. In 2016, ECM Records released her album of Bartók, Lutoslawski, and Schnittke sonatas with pianist Blair McMillen. For her first CD, she recorded the Ponce and Korngold violin concertos with the Czech National Symphony, on Centaur Records. She subsequently was awarded grants from the Copland Fund (four times in a row) to develop her interest in 20th-century American violin music and record works by Ross Lee Finney, Donald Martino, and Ralph Shapey. Her other albums include the Roger Sessions solo Sonata, Elliott Carter Duo and a duo by Jason Eckardt, with Blair McMillen; "the wreckage of flowers": music by Michael Hersch; and "Melting the Darkness": microtonal and electronics pieces by Xenakis, Haas, Bianchi, Rowe and more. Her playing is also featured on an array of composers' albums, including Reiko Füting, Jeffrey Mumford, Louis Karchin, Anna Weesner, Harold Meltzer, Dai Fujikura, David Dzubay and Philip Glass.
She is founder of non-profit organization Nunc; a member of interdisciplinary collective AMOC founded in 2017 by Matthew Aucoin and Zack Winokur; an artistic advisor at Brooklyn venue National Sawdust; and a member since 2009 of new-music collective counter)induction. She was violinist of the Argento Chamber Ensemble from 2003 to 2011, American Contemporary Music Ensemble, aka ACME (2005-2010), and Momenta String Quartet (2004-8).
She has continually engaged throughout her life with various forms of art. She has performed the Barber Concerto with the New York City Ballet, Stravinsky Duo Concertant at BAM with the State Ballet of Georgia, and Stravinsky Concerto for the Balanchine centennial. In 2019 she was presented by National Sawdust's multimedia Ferus Festival in a new work with composer Katharina Rosenberger and projection designer John Burnett.
Miranda studied at Juilliard, starting in Pre-College when she was nine, through her DMA degree (with some years between her college degrees). She was a Starr Fellow and won Juilliard's Presser Music Award, and the Richard F. French Prize for her doctoral dissertation on Ross Lee Finney, his violin works and his folk music background. Her main teachers were Robert Mann, Dorothy DeLay, Felix Galimir, Shirley Givens, and for chamber music, Fred Sherry and the Juilliard Quartet. Now a sought-after teacher herself, she is on faculty at the Mannes School of Music/New School University, college and prep divisions.
She is a US citizen and her parents, both musicians, are of Austrian/English and Taiwanese origin. Cuckson is pronounced "Cookson", as in the word to "cook".
photo by Henry J Fair