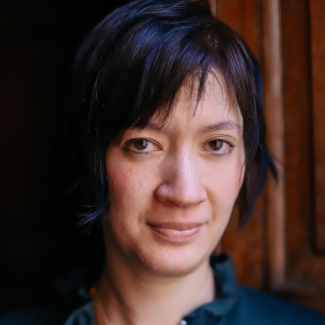 Violinist and violist Miranda Cuckson is a favorite of audiences for her performances of a great range of repertoire and styles, from music of older eras to the most current creations. From a strong grounding in the classical repertoire, she has become one of the most active and acclaimed performers of contemporary music. Downbeat magazine recently stated that she "reaffirms her standing as one of the most sensitive and electric interpreters of new music."
Called "a prodigiously talented player who [can] make even the thorniest contemporary scores sing" (New York Times), she appears as soloist and chamber musician in concert halls large and small, schools and universities, galleries and informal spaces. Recently, she made her Carnegie Hall (Stern Auditorium) debut in Piston's concerto with the American Symphony Orchestra. Her upcoming engagements include a new violin concerto by Georg Friedrich Haas which she will premiere in Tokyo, Stuttgart and Porto, the New York premiere of Michael Hersch's violin concerto, and solo and chamber music at the West Cork Music Festival in Ireland. Her recent recital appearances include the St. Paul Chamber Orchestra's Liquid Music series, the Metropolitan Museum of Art's Met Breuer, Miller Theatre, Strathmore, The Art Institute of Chicago and the Look and Listen Festival in New York.
In addition to working with numerous emerging composing talents, Miranda has collaborated with an array of renowned composers including Dutilleux, Carter, Adès, Sciarrino, Adams, Boulez, Hyla, Mackey, Crumb, Iyer, Saariaho, Davidovsky, Ran, Hurel, Bermel, Wyner, Murail, Wuorinen and Currier. In 2012, the Library of Congress commissioned a work for her by Harold Meltzer, which she premiered there on a program honoring Fritz Kreisler.
Her latest album – violin music by Wolpe, Carter and Ferneyhough – was released in 2017 on Urlicht Audiovisual and adds to her adventurous and varied discography. Her first album for ECM Records – sonatas by Bartók, Schnittke and Lutoslawski – was released in 2016, and her recording of Nono's La lontananza nostalgica utopica futura for violin and electronics on Urlicht Audiovisual was named a Best Classical Recording of 2012 by The New York Times.
Miranda is founder/director of the music non-profit Nunc, a member of the collective counter)induction, and a performer/curator at National Sawdust in Brooklyn. She studied at The Juilliard School, where she received her BM, MM and doctorate degrees and won the school's Presser and Richard F. French Awards. She is on the violin faculty at the Mannes School of Music.