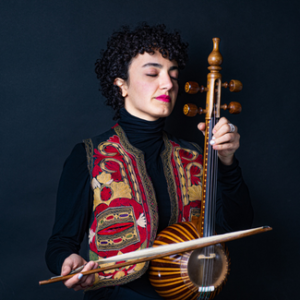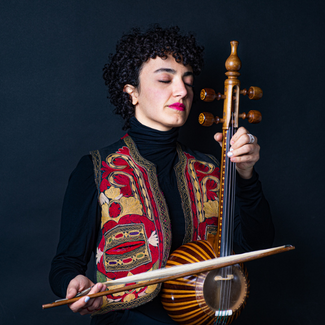 Niloufar Shiri is a kamancheh player and composer from Tehran, Iran. Her music carefully weaves the musical and poetic structures of traditional Iranian music with noise and electronics, to produce music that explores the contemporary soundscape of a displaced Iran. Shiri has collaborated and performed with numerous ensembles and festivals as a performer and composer including Long Beach Opera, Mostly Mozart, Tehran Contemporary Music Festival, Ojai Music Festival, and Banff Centre for Arts and Creativity, International Contemporary Ensemble, Jack Quartet, CAMPGround Festival, Atlas Ensemble, DelSol String Quartet and LoadBang Ensemble.
Shiri has created music with musicians such as Jessika Kenney, Jennifer Curtis, Kyle Motl, Farah Hatam, and Antonin Fajt. Currently she is collaborating with the music department at Pomona College as a visiting artist.
Shiri received her B.A. with Honors in composition at UC San Diego in 2017 and a M.A. in Integrated Composition, Improvisation, and Technology from UC Irvine in 2022. In conjunction with her studies, she has performed research, funded from a grant from the National Endowment of the Arts in 2012, on Iranian classical music.
[Bio from
Cape Symphony Website
]