Norwegian Chamber Orchestra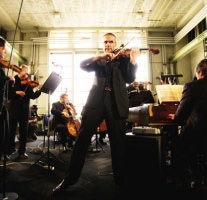 The Norwegian Chamber Orchestra was founded in 1977 under the leadership of Terje Tonnesen, who still works as the orchestra's Music Director. For many years he worked in parallel with Iona Brown, who was Music and Artistic Director until 2001. Isabelle van Keulen will share the position as Music Director together with Tonnesen and with Leif Ove Andsnes as Principal Guest Director from the start of the 2009/10 season.
The NCO is made up of the very best musicians in Norway who come together for specific projects.
The orchestra regularly records and has a large number of recordings on labels like EMI, Virgin, Chandos, BIS and Simax. The NCO's very first recording quickly established the orchestra's international reputation: the Gramophone critic simply wrote "No record has given me more pleasure and few as much". EMI's recording of three Haydn Concertos with Leif Ove Andsnes received the Gramophone Concerto Award for 2000. This was followed up by two recordings of Mozart Piano Concertos (Nos. 9 & 18 and Nos.17 & 20). Both received fantastic reviews in the British magazine Gramophone, and in the New York Times, and were also nominated for the prestigious Grammy award for 2005 and 2008. For the first time, Andsnes and the NCO are also available on DVD (EMI) with music by Mozart and Bach, with visual elements from the world of pop and rock.
The orchestra is a regular guest at many of the world's most distinguished concert halls, and has toured with artists like Mstislav Rostropovich, Joshua Bell, Radu Lupu, Joanna MacGregor and Leif Ove Andsnes. Concert appearances include several visits to the USA, Canada, the UK, Central Europe and at festivals all over the world. The NCO last visited countries in the Far East in 2005, with concerts in Seoul, Shanghai, Hong Kong and Kuala Lumpur. Last season they visited Germany, Switzerland, UK and Denmark. In 2010 the NCO will tour the Far East in addition to concerts in London, Copenhagen, Gothenburg and at the Bergen Int. Music Festival.
The NCO regularly gives a series of subscription concerts in Oslo and frequently performs in other cities in Norway and Scandinavia. Since 1995 the orchestra has presented their own 'Oslo Winter Nights' festival every second year.