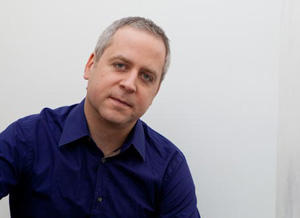 Ojai enthusiastically welcomes back versatile pianist Jeremy Denk, who made his Ojai Music Festival debut in 2009 performing Bach's Goldberg Variations and Ives' First Sonata plus numerous chamber music works. With his wide-ranging repertoire, Mr. Denk regularly collaborates with leading orchestras and festivals, and is an active writer through feature articles in The New Yorker and his blog, "Think Denk," which delves into both musical and extramusical observations.
In Jeremy Denk's Own Words:
"The idea of Ojai 2014 emerged from a couple of immediate enthusiasms. One was an album that I had always loved by the jazz pianist and musical thinker Uri Caine, "Primal Light," in which he takes Mahler and explodes him, or implodes him, I can't exactly decide which. He takes things that are already in Mahler–a sense of dislocation, of frenetic collage, of all the anxiety of the 20th century and modernism and yet some tenderness vying against it all–and does collages on that cluster of techniques, in a way turning Mahler inside out. Tom Morris and I agreed we loved Uri Caine, and he will be the first night of the Festival.
The other was a dream I had of doing an opera. An opera in which principles of music–harmony, structure–and the big three composers (Haydn, Mozart, Beethoven), not to mention various disgruntled young musicians, would find themselves in conversation, immersed or enmeshed or mired in an opera buffa, with all its implausibility and silliness and artifice. Although those of us who perform and love this music like to cultivate an air of seriousness, at times we have to realize there is something ridiculous about the level to which we've subjected this music to consideration, analysis, thought. The opera buffa genre is simply a way of exposing this absurdity, turning music inside out to reflect on itself, with hopefully hilarious and intriguing results. The self-awareness of music.
The common thread between these two enthusiasms is essentially screwing (to use the polite word) with the canon. To that end, a lot of the other pieces in the Festival are canonical in peculiar ways, or have a very uneasy relationship with the canon. The Ligeti Etudes (favorite works of mine) are what you might call "new classics," and they take up the Chopin, Schumann, Scarlatti, and merge them with the remorseless logic of the machine, the complexity of fractals. Uri Caine is going to create a "realization" of the 14 Canons that Bach wrote on the first eight bass notes of the Goldberg Variation ground, pieces which begin as simple lessons in counterpoint and then gradually become ever more intense, chromatic, and you might even say delightfully perverse. Leading to these canons will be scatological canons of Mozart, elaborate canons by Josquin and Thomas Ades and Nancarrow–from the sublime to the ridiculous.
A generation of young Brooklyn composers will be heard, confronting the problems of style in a time when there is no style to speak of. And of course, my perennial favorite iconoclast, Charles Ives, will be represented by the four violin sonatas, ranging from the polite and poetic ("weak stepsister" I believe Ives called his own more lyrical work) to the deranged and confrontational.
2014 Overview
For the 68th Ojai Music Festival (June 12-15, 2014), Mr. Denk and Artistic Director Thomas W. Morris are shaping a program that fully reflects both the ideals of the Ojai Music Festival and the unique and inventive musical mind of Jeremy Denk. The Festival features the world premiere of a commissioned opera, described by Mr. Denk as "at once a love letter to Mozart, Beethoven, and Haydn, and a satire of classical pomp." With libretto by Mr. Denk, music by Steven Stucky, and conducted by Robert Spano, the opera is co-commissioned by the Ojai Music Festival, Cal Performances in Berkeley, the Aspen Music Festival and School and Carnegie Hall. The Ojai premiere is supported through a generous grant from the Andrew W. Mellon Foundation. Among Mr. Denk's collaborators, American composer and jazz pianist, Uri Caine, will perform music from his The Mahler Project, which was a sensation when released on the recording "Primal Light" in 1998, and violinist Stefan Jackiw will join Mr. Denk in a performance of Ives Violin Sonatas (complete). With music by Beethoven, Janacek, Ives, Ligeti, Mozart, Schoenberg, the Festival will also offer works by cutting-edge Brooklyn-based composers. Additional programming details for the 2014 Ojai Music Festival will be announced in the fall.
Artistic Director Thomas W. Morris said, "It is only right that Jeremy Denk returns to Ojai as Music Director, after his sensational debut in 2009. He is one of the most inventive minds in music today, both as a programmer, performer, writer and thinker. I am delighted that the 2014 Ojai Music Festival will showcase all of these myriad talents of Jeremy. It promises to be an adventure that is provocative, stimulating, engaging and fun – all of which represent Jeremy Denk."
Jeremy Denk, Music Director
"A pianist you want to hear no matter what he performs," (New York Times) Jeremy Denk has established himself as one of America's most thought-provoking, multi-faceted, and compelling artists. Distinguished as both a soloist and a chamber musician, he has appeared with numerous orchestras including the Los Angeles Philharmonic, the Philadelphia Orchestra, and the symphony orchestras of Boston, Chicago, San Francisco, and London. He regularly gives recitals in New York, Washington, Boston, Philadelphia, and throughout the United States. This season he makes solo appearances in venues including Carnegie Hall's Stern Auditorium and London's Wigmore Hall. Mr. Denk is known for his witty and insightful writings about music, much of which can be found on his blog entitled "Think Denk" – recently chosen for inclusion in the Library of Congress web archives. In addition to features for The New Yorker, he has written articles for the New York Times Book Review, Newsweek, New Republic and the website of NPR Music. Alex Ross of the New Yorker calls him "a superb musician who writes with arresting sensitivity … sophisticated on the one hand, informal on the other, immediate in impact."
In 2012, Mr. Denk released an album under Nonesuch featuring Ligeti's famously complex Etudes and Beethoven's last Piano Sonata. Its success earned it a feature on Fresh Air with Terry Gross, while BBC Music hailed it as nothing short of "a marvel." He lives in New York City.
Thomas W. Morris, Artistic Director
Thomas W. Morris was appointed artistic director of the Ojai Music Festival starting with the 2004 Festival, a relationship that extends through 2017. Mr. Morris is recognized as one of the most innovative leaders in the orchestra industry and served as the long-time chief executive leader of both The Cleveland Orchestra and the Boston Symphony Orchestra. Mr. Morris is currently active nationally and internationally as a consultant, lecturer, teacher, and writer.
As artistic director of the 67-year old Ojai Festival, Mr. Morris is responsible for artistic planning, and each year appoints a music director with whom Mr. Morris collaborates on shaping the festival's programming. During his decade-long tenure, audiences have increased, and the scope of the festival has expanded, most recently to include an innovative partnership with Cal Performances in Berkeley, Ojai North!
Mr. Morris is a founding director of Spring for Music, and serves as the project's artistic director. He currently serves as a member of the Board of Trustees of the Curtis Institute of Music and as chair of its Board of Overseers, and is a member of the Board of Directors of the Interlochen Center for the Arts. He is also an accomplished percussionist.
About the Ojai Music Festival
From its founding in 1947, the Ojai Music Festival has created a place for groundbreaking musical experiences, bringing together innovative artists and curious audiences in an intimate, idyllic setting 80 miles northwest of Los Angeles. The Festival presents broad-ranging programs that embrace the music of our time and provides intellectual context and education around Festival programming, creating an immersion experience of adventurous inspiration and vibrant collaboration. Considered a highlight of the summer classical music season, Ojai has remained a leader in the classical music landscape, provoking thought during the Festival and long after about why music matters.
The Ojai Music Festival attracts the world's greatest musical artists. Through its unique structure of appointing an annual Music Director by the Artistic Director, Ojai has presented a "who's who" of music including: Aaron Copland, Igor Stravinsky, Olivier Messiaen, Michael Tilson Thomas, Kent Nagano, Pierre Boulez, John Adams, Esa-Pekka Salonen, Robert Spano, Pierre-Laurent Aimard, David Robertson, eighth blackbird, George Benjamin, Dawn Upshaw, Leif Ove Andsnes, Mark Morris, and Jeremy Denk.
Following the 2013 Festival in Ojai, Ojai North! takes place from June 12-15 in Berkeley, CA. The Ojai Music Festival's multi-year partnership with Cal Performances makes possible annual reprises of Ojai concerts in Berkeley, as well as co-commissions and co-productions. More than a sharing of resources, Ojai North! represents a joining of artistic ideals and aspirations. The combined efforts of Ojai's legacy of artistic innovation and Cal Performances' tradition of groundbreaking productions creates a joint force that allows artists to achieve more than could even be imagined by each organization separately.
Information and Passes
2014 advance series subscriptions will be available in the summer. Program details will be released in the fall. Please call 805 646 2053 or download the order form here >>
Directions to Ojai, as well as information about lodging, concierge services for visitors, and other Ojai activities, are also available on the Ojai web site. Follow Festival updates on the web at OjaiFestival.org, Facebook and Twitter.
Visit Jeremy Denk's website and blog >>