Uri Caine Q&A: Mahler and His Music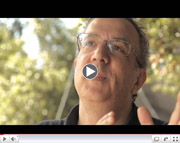 Music Director Jeremy Denk invited artists, who share his passion for music and love for adventure, to join him on Thursday, June 12, the opening night of the Festival. Pianist and composer Uri Caine, who Jeremy describes as an "unbelievable genius," will make his Ojai debut performing his own interpretation of works by Gustav Mahler.
In April, Uri toured the Libbey Bowl and shared his impressions about Ojai and how his interest in Mahler was born.