Vinko Globokar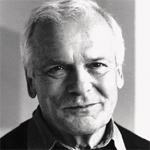 From 13 to 21 years of age Vinko Globokar lived in Ljubljana (Slovenia), where he made his debut as a jazz musician. He subsequently studied trombone at the National Conservatory in Paris (diploma in trombone and chamber music). He studied composition and conducting with René Leibowitz, counterpoint with André Hodeir, and continued his studies with Luciano Berio.
He has performed the premières of a large number of works for trombone by Luciano Berio, Mauricio Kagel, Karlheinz Stockhausen, René Leibowitz, Louis Andriessen, Toru Takemitsu, Jürg Wittenbach and others.
He has conducted his works with the orchestras of Westdeutscher Rundfunk, Radio France, Radio Helsinki, Radio Ljubljana, with the Philharmonic Orchestras of Warsaw and Jerusalem…
From 1967 to 1976 he was professor at the Musikhochschule in Cologne. In 1969 he was among the founders of the free improvisation group 'New Phonic Art'. From 1973 to 1979 he ran the department of instrumental and vocal research at IRCAM in Paris. From 1983 to 1999 he was teaching and conducting the 20th-century repertoire with the Orchestra Giovanile Italiana based in Fiesole (Florence). In 2003 he was made a honorary member of the International Society for Contemporary Music (ISCM).
Vinko Globokar lives in Paris.