Welcome Laura Walter – New Education Coordinator
The Festival warmly welcomes Laura Walter as our new Education Coordinator. Laura is taking over duties from Andy Radford, who has headed BRAVO for the past 12 years. Andy will remain as the Festival's Intern Coordinator and Laura take charge of planning, organizing, and scheduling BRAVO's activities in local classrooms and the Ojai community.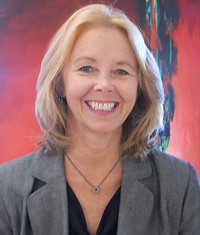 Laura writes, "What an honor to be involved with the Ojai Music Festival as the new Education Coordinator! Andy Radford has done a wonderful job of enriching the lives of the community, and I look forward to continuing his good work. Through the avenues of singing, percussion, flutes, and learning about the music of the Chumash culture, the BRAVO program acts as an important voice, bringing many enriching experiences of music to the people of the Ojai Valley and Ventura County. I'm so excited to be able to contribute! Music helps us feel a larger whole, a part of something bigger than ourselves. When beauty is created through feeling and thinking, an elevation occurs, a greater awareness and appreciation. Our world is better for it."
No stranger to Ojai's schools Laura is a longtime BRAVO Artist in Residence, leading workshops in ETM (Education Through Music) for K-3 students. She also teaches at Westmont College and performs regularly with the Santa Barbara Symphony, Opera Santa Barbara, and other chamber groups in the Santa Barbara and Los Angeles area.
Laura has recorded over a dozen CD's with various artists. She has arranged several flute choir pieces and composed an etude book published by Alry Publications. She has also performed with Henry Mancini, Doc Severinsen, Yanni, and Steve Allen, among others. Recently, she was featured on a recording of J.S. Bach's Mass in B Minor with the Santa Barbara Master Chorale, and locally premiered Cut.Pieces with performance artist Ursula Gallenkamp.
The former Executive Director of The Richards Institute of Education and Research, a non‐profit group, Laura continues working with teachers and children, especially at‐risk youth, using the experience of interactive play to develop song, movement, motivation, intelligence, literacy, emotional stability, and beauty. She is the regional coordinator of Education Through Music (ETM) and leads workshops for teachers to incorporate the arts into the current STEAM philosophy, integrating song, movement and play into daily activities for an integrated and more effective classroom. She continues working with children across the nation at annual Fine Arts Family camps and workshops.
Children in ETM classes create beauty, which leads to empathy and hope, embracing the important contribution of arts education. Teachers often say, "ETM has taught these children to be kind and respectful by creating beautiful music with each other."