2015 Ojai Music Festival Music Director Steven Schick shares initial programming for 69th Festival June 11 – 14, 2015
The 2015 Festival is a celebration of 20th and 21st century composers, including works by 14 composers new to Ojai, a salute to Pierre Boulez on the occasion of his 90th birthday, the West Coast premiere of John Luther Adams Sila: The Breath of the World, and installation and free community performances of Paul Dresher's theater piece for Steven Schick, Schick Machine
"I've been coming to the Ojai Music Festival, off and on, for 20 years. Now, in 2015, I have the great privilege of being music director! Out of a dizzying range of possibilities, we are curating a festival that looks to the future without forgetting where we've been. Together with terrific artists and great friends including the International Contemporary Ensemble, red fish blue fish, Maya Beiser, Wu Man, and the San Diego based chamber ensemble, Renga, we'll revisit classic works by Edgard Varèse, and Béla Bartók, and we'll hear the emerging voices of Anna Thorvaldsdottir, Roland Auzet, and Lei Liang. We'll pay tribute to pioneers like Pauline Oliveros, and we'll be moved by the life-affirming work of George Lewis, Claire Chase, and John Luther Adams. We will celebrate the 90th birthday of Pierre Boulez, who has been Ojai music director seven times. Oh right…and you'll hear some of the most exciting percussion music on the planet!" – Steven Schick, 2015 music director
Download 2015 series order form >>
As the Ojai Music Festival wraps up the 68th Festival (June 12 – 15, 2014) with Music Director Jeremy Denk, the Festival's 2015 Music Director Steven Schick and Artistic Director Thomas W. Morris share initial programming for the 69th Festival, which focuses on music by almost thirty composers, half of whom are new to Ojai; the West Coast premiere of John Luther Adam's Sila: The Breath of the World and a special pre-festival performance on Wednesday June 10 of Pierre Boulez: A Portrait, a spectacular multi-media kaleidoscope production with narration, archive films clips, live music, and stage set by Frank Gehry, part of the Chicago Symphony Orchestra's Beyond the Score series. The 2015 Festival runs from Thursday, June 11 through Sunday, June 14, 2015.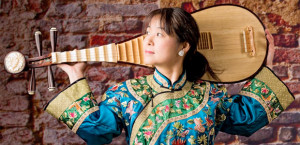 Ojai enthusiastically welcomes percussionist, conductor, teacher, and author Steven Schick as Music Director. With Mr. Morris, Mr. Schick has devised a unique and explosive festival focused entirely around 20th and 21st century composers, featuring Mr. Schick as collaborator, teacher, actor, conductor, and master percussionist. Joining him will be long-time colleagues including the International Contemporary Ensemble ("ICE"), the San Diego string ensemble Renga, pipa artist Wu Man, and virtuoso cellist Maya Beiser.
The 69th Festival programming will feature works by John Luther Adams, Béla Bartók, Pierre Boulez, Edgard Varèse, and Iannis Xenakis, as well as by emerging composers, including Anna Thorvaldsdottir, Roland Auzet, and Lei Liang. Additional programming will be announced in the fall.
No stranger to Ojai, Mr. Schick collaborated on the 2011 Festival's production of George Crumb's Winds of Destiny (Dawn Upshaw, music director), as well as the 2012 Festival (Leif Ove Andsnes, music director) in John Luther Adams' Inuksuit, performed throughout Libbey Park. A champion of new music, Mr. Schick has commissioned and premiered more than 150 new works and is the founder and artistic director of percussion group red fish blue fish. He is the founding member of the Bang-on-a-Can All Stars and is currently artistic director of the San Francisco Contemporary Music Players, as well as music director of the La Jolla Symphony and Chorus. He is on the faculty of the University of California, San Diego. In 2015, the program will showcase Mr. Schick's unique and broad talents as a percussionist, conductor, performer and musical trailblazer.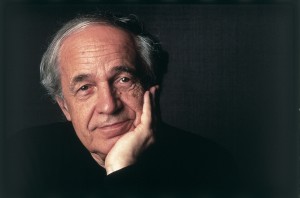 The 2015 Ojai Music Festival will honor Pierre Boulez on the occasion of his 90th birthday with four concerts featuring Boulez's music paired with the music of Béla Bartók. In addition, on Wednesday, June 10 prior to the Thursday June 11 start of the Festival, Ojai will present the West Coast premiere of Pierre Boulez: A Portrait, a kaleidoscope of recorded and live music, words, and imagery. Pierre Boulez is one of Chicago Symphony's Beyond the Score programs and features original set design by architect Frank Gehry. The performance will be preceded by a special panel discussion by Boulez's friends and colleagues entitled "Boulez in Ojai." Pierre Boulez has served as music director seven times since he first curated the Festival in 1967. He was most recently music director in 2003.
"Pierre Boulez is not only one of the seminal figures of our time but a prominent figure in Ojai's history having made his American conducting debut in Ojai in 1965. He has been music director seven times. It is only fitting that we celebrate this master and friend on this milestone," commented Artistic Director Thomas W. Morris.
Festival collaborator and recent Pulitzer Prize-winning composer John Luther Adams returns to Ojai in 2015 with the West Coast premiere of his Sila: The Breath of the World, to be performed at a free community event throughout Libbey Park. This new work for an ensemble of 80 musicians will receive its first performances in July 2014 at the Lincoln Center Out of Doors Festival. In the Inuit tradition, sila is the spirit that animates all things—the wind, the weather, and all forces of nature. In Sila: The Breath of the World, composed specifically to be heard outdoors, musicians and listeners alike are encouraged to move about the performance space freely. John Luther Adams' music was first heard in the 2009 Festival, and again in 2012 with a performance of Inuksuit in Libbey Park. The 2013 Festival included performances of Mr. Adams' For Lou Harrison, Strange and Sacred Noise, and songbirdsongs.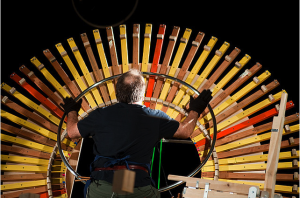 Throughout the 2015 Festival, Schick Machine by Paul Dresher will be performed daily in special free community concerts. Collaboratively created by a multi-disciplinary team including composer/instrument builder Paul Dresher, writer/director Rinde Eckert, Steven Schick, lighting and visual designer Tom Ontiveros, instrument inventor/educator Daniel Schmidt, and mechanical sound artist Matt Heckert, Schick Machine features Mr. Schick exploring a visually compelling world of mechanical devices, invented instruments, and seemingly infinite sonic possibilities. Exploring a magical stage filled with enormous, specially conceived instruments — including the Hurdy Grande, the Tumbler, the Peacock, the Field of Flowers, and a deconstructed pipe organ – the Schick Machine weaves whimsical stories of Mr. Schick's childhood in Iowa with unexpected encounters with noise-making objects and invented instruments. Audience members will be invited onstage at the end of each performance to play with these unique and fantastical instruments.
Download 2015 series order form >>
Or call our box office at 805 646 2053