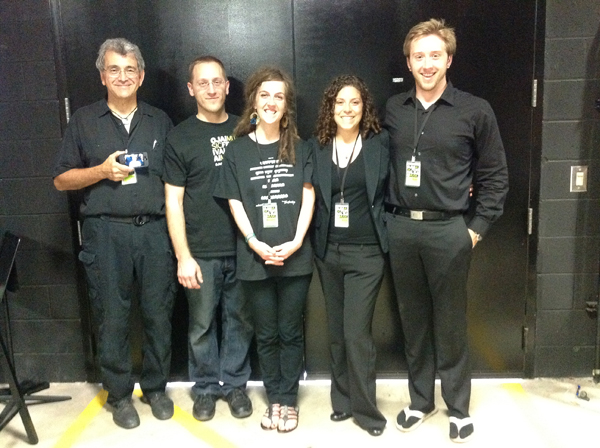 I spent a lot of my childhood living in Ojai and vaguely remember folks at my schools, Mira Monte and Matilija, mentioning the Ojai Music Festival. Murmurs of experimental music during Ojai summers came through my piano teacher, my school choir community, and through some of my parents' more artistic friends. However, I remained fairly oblivious. The most actual music I heard from the Festival was from distant rehearsals resounding in the park as I stepped into Ojai Ice Cream on a warm June day.  Who knows, maybe Pierre Boulez opened the door for me at the time, and I missed it.
A few moves and several years later, I was 18 and decided I was going to be a composer. I went to study music at Baylor University, in Waco, Texas. There I discovered contemporary music, and fell in love with composers like John Cage, Sofia Gubaidulina, Witold Lutoslawski and Steve Reich. At some point it dawned on me that the very world I was joining as a budding composer had a particular hold on my previous place of residence: Ojai. I looked up the Festival and was blown away by the names I saw featured on the programs. John Adams conducted, Dawn Upshaw sang, Gyoergy Ligeti was played?! I then saw the link to apply for an internship at the Festival and it was a done deal. I had to go.
I was grateful to get an internship in precisely the department I wanted: production. Having produced several musical events myself (a young composer's mantra is, "If an established group won't play your music, create your own group to play it"), I wanted to get my hands on a professional production experience. My first summer at OMF was the year eighth blackbird came, and I was over the moon, as I had long nursed a huge (albeit nerdy) celebrity crush on the ensemble and their performances. I was ready to serve in any capacity to make this Festival go off without a hitch. (First lesson in production: there is ALWAYS a hitch.)
Lots of concerts, rehearsal schedule print-outs, percussion set-ups and triple lattes later, the Festival had come and gone. All of us celebrated another successful new music fest, full of marvelous concerts and life-changing moments. However, I felt my life had been changed the most. Up until that summer at OMF, composing had been my main career goal. But in those weeks of my internship, I had noticed that producing a new music event energized me in a very different way than composing did, and I loved it. I committed to coming back a second year to OMF, with the hopes of having a dual career of composing and production.
A second year became a third, and that third year became a fourth… and now I return this year with the title of (gasp!) Assistant Producer! During these years at the Ojai Music Festival, my passion for production has continually been confirmed as I have received more and more exposure to various aspects of the job. Working as an artist liaison for Ensemble Modern in 2010, I realized the value of relating well to artists and making their experience as positive as it can be so they, in turn, can provide their best performances for expectant audiences. Our 2012 festival, complete with a last-minute airline strike which threw all of our artists' travel plans in disarray, taught me the value of organization and problem-solving in high-stress situations.  That festival also taught me that positivity and quick thinking are essential to every producer's job. Each festival, these concepts and more have been reinforced by marvelous individuals such as Tom Morris, Susan Anderson, and Elaine Martone, (not to mention the ENTIRE OMF staff and intern workforce). These people initially sparked and now continuously deepen my love and respect for the creation of such a music festival.
I went into composing for several reasons: because aural art is powerful and fascinating, because new music challenges and widens us, because exploration is important to our human spirit, for example. But the main reason I went into composing was because I wanted to touch people through music. I wanted to create an experience which reminds people that no matter how tough this life gets, there is unspeakable beauty in this broken and strangely marvelous world we live in.
I can communicate this truth I believe in through the music I write, yes. And I still strive to do so. But working at Ojai Music Festival taught me that I can also communicate this truth in other ways. Producing employs the other parts of my personality, such as extroversion, organizational capabilities and my gifts for teamwork to achieve the very same goal that my composing has. To have such a balance and opportunity for my career is a privilege I hope I never take for granted.
It is always funny to think of my fourth-grade days in Ojai when I was completely unaware of the Festival. There is no way I could have foreseen the impact the music there would have on my life. But I am so grateful that life has turned out the way it has. First to gravitate towards composing, and then to discover this other part of myself that was so fulfilled backstage at the Ojai Music Festival. Thank you so much to all of my leaders and fellow staff at OMF. I hope to continue working with you to communicate the beauty of the world through music, over and over again!
Learn more about the Festival internship program here >>